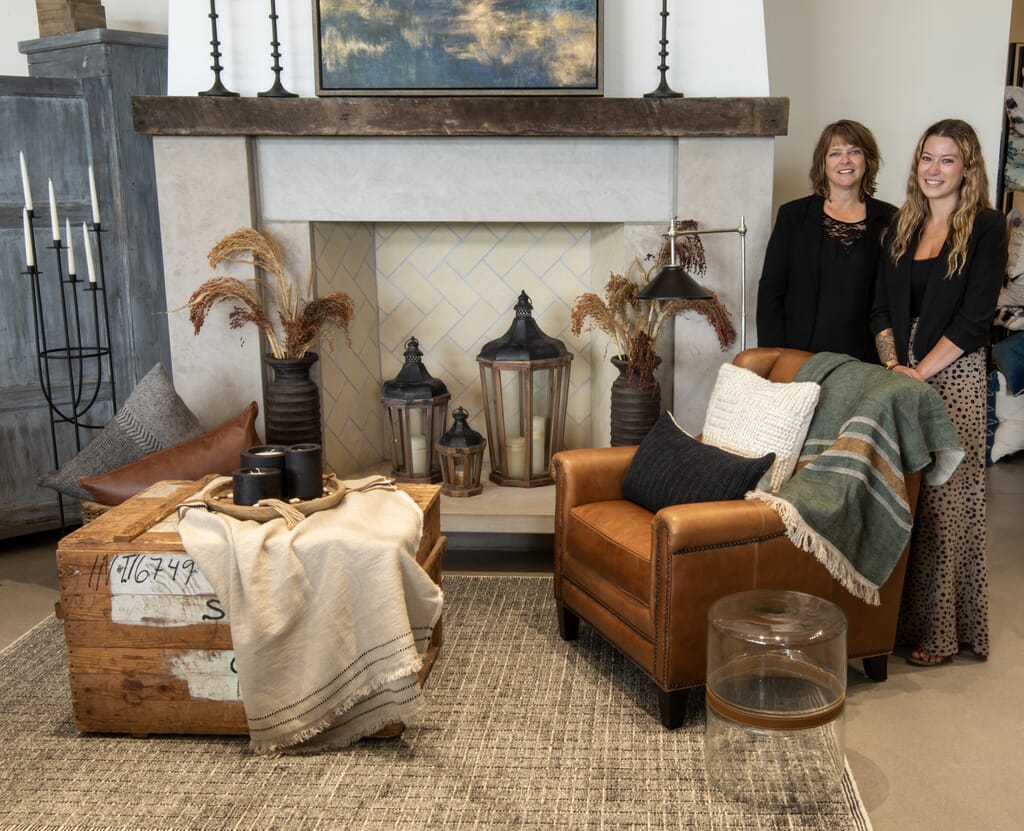 As the leaves change colors and the air turns crisp, it's time to welcome the warmth and charm of fall into your home. One of our favorite ways to do that? Updating your fireplace décor to reflect the new season. The hearth is often the heart of a home, and with a few creative touches, you can transform it into a cozy, autumnal haven. In this blog, we'll explore how two of our Appleton designers, Jeanette & McKenna, took our in-store fireplace from Summer to Fall.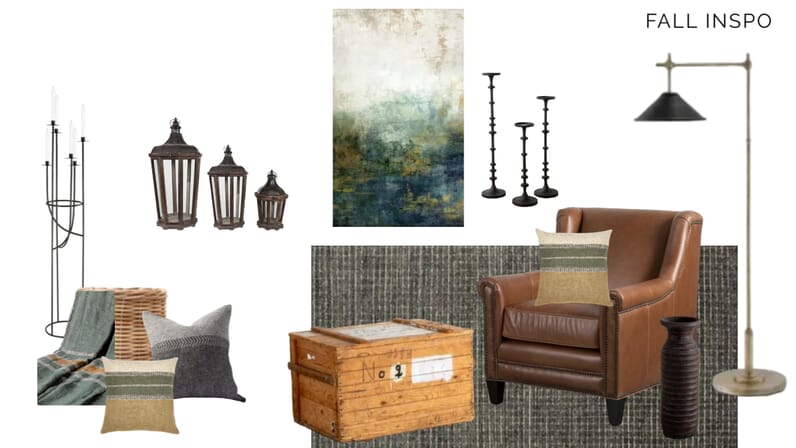 Autumn Hues
A great place to start is a mood board to layout the items and make sure your colors are cohesive.  Fall is all about warm, earthy tones. Incorporating these colors will instantly add warmth to any space. We chose variations of creamy whites, orange, rust, deep greens & browns for this look. Knowing we wanted to incorporate an eye-catching piece of furniture, we went straight to our Trent Chair.
"The Trent Leather Chair in warm cognac with contrasting nail head trim was the anchor for this design project. Layering in the metal, wood and other textural elements balances out the leather to create an inviting area next to the fireplace. Finishing touches such as the broom corn and amber millet brings everything together in glorious fall colors!"
Explore your creativity and add unique, personal touches to your fall fireplace decor. Incorporate antique finds, vintage lanterns, or unique collectibles that remind you of the season. These distinctive pieces can add character and warmth to your home. Our teak vases and rustic lanterns were a perfect choice to add depth to the look.
Textiles
Textiles—one of our absolute favorite ways to add an instant feel of cozy. Drape soft, autumn-inspired throws over your furniture or arrange a plush rug in front of the fireplace. These textiles create an inviting atmosphere and provide comfort during chilly evenings.
"I love to bring nature indoors to create a warm and inviting atmosphere. Layering in the metal, wood and other textural elements balances the leather to create a timeless style."
Bring the Warmth
Candles add a warm, flickering glow that enhances the cozy, fall ambiance. Select candle holders or lanterns that match your decor theme. Fragrances like pumpkin spice or warm vanilla will fill the room with delightful scents, adding to the overall fall experience.
Decorating your fireplace for fall is a delightful way to celebrate the season and make your home a cozy retreat during the cooler months. With the right combination of autumn colors, natural elements, and personal touches, you can transform your fireplace into a charming focal point that embraces the spirit of fall.