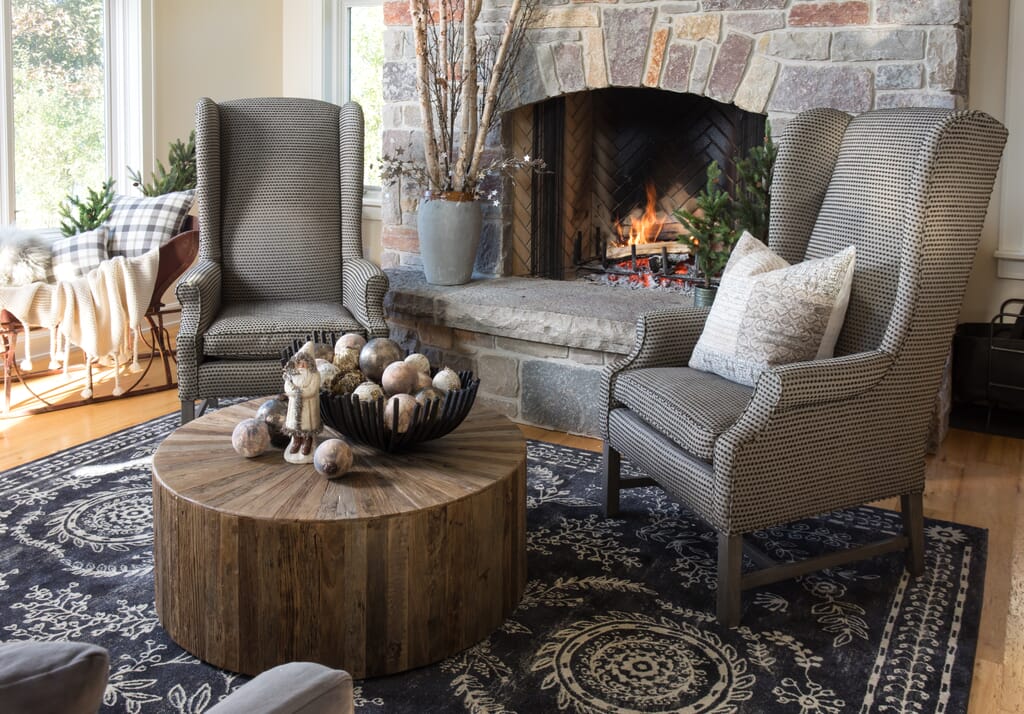 When it comes to setting the tone for your holiday decor, your mantel is a great place to start, especially when you have a mantel as gorgeous as the one featured here.
We enlisted two of our interior designers from Appleton to put their own unique spin on decorating your mantel for the upcoming holiday season, and they did not disappoint. Whether your style leans more minimal or bold, we have two beautiful mantel looks that are sure to capture the holiday spirit in your home.
look one: CLASSIC NEUTRAL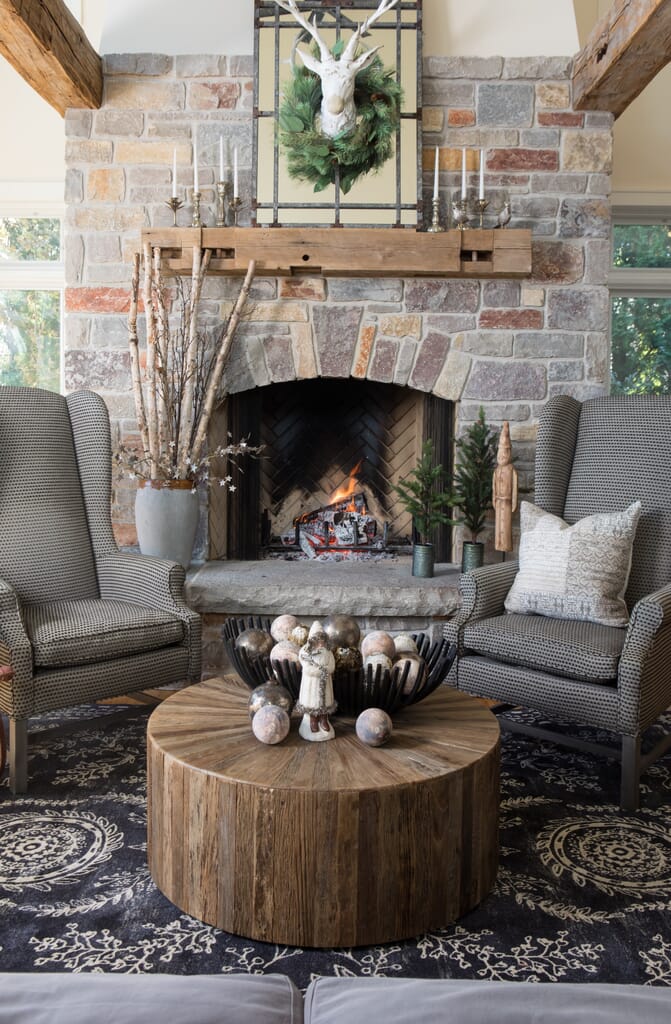 Designer Julie Kanugh stayed true to her preference toward minimalism when creating her holiday mantel look. A neutral palette keeps the look timeless and fresh, while elements of nature keep it down to earth.
Julie advises looking for accessories throughout your home that can be swapped out to reflect the change in seasons. For example, she swapped out the rug to update the look and utilized everyday pieces, like different throws and pillows, to make the space feel fresh using items that you most likely already own. For fall, she recommends filling the metal bowl with pumpkins; during the Christmas season, however, she added ornaments paired with a Santa figure.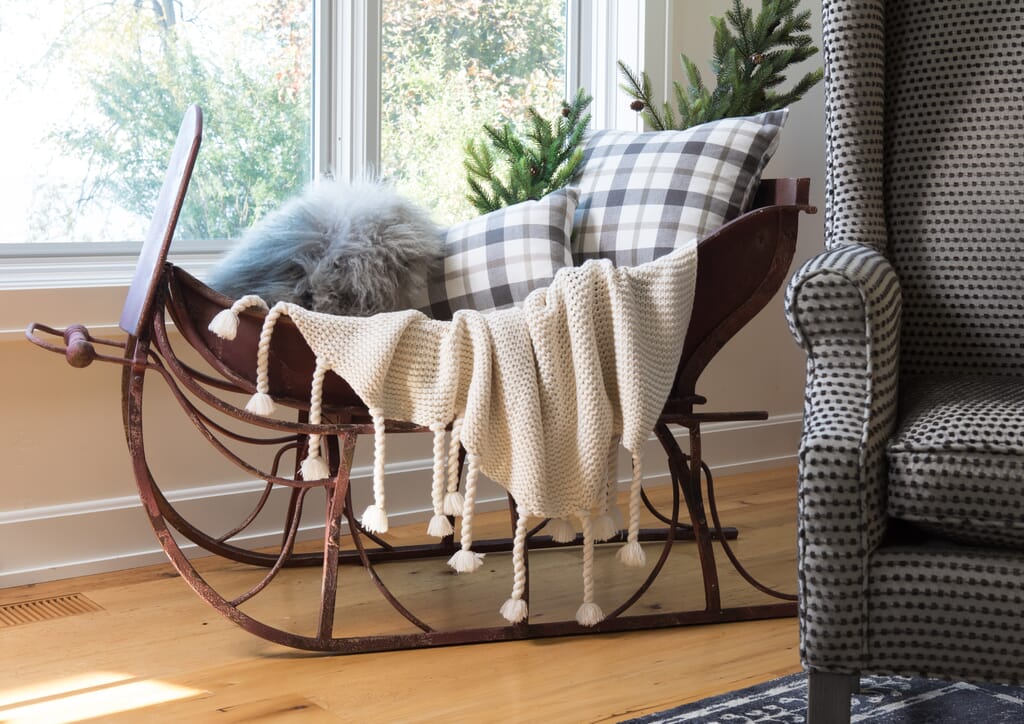 To enhance her holiday look, Julie added a wreath and ceramic deer head to the big mirror above the mantel, flanking the mirror on either side with taper candles in seasonally inspired candle holders. On the hearth, she added a large vase with birch branches and garland to the left of the fireplace while small potted evergreens and a wood Santa figure complete the look to the right.
get the classic neutral look: 
look two: COLOR &WHIMSY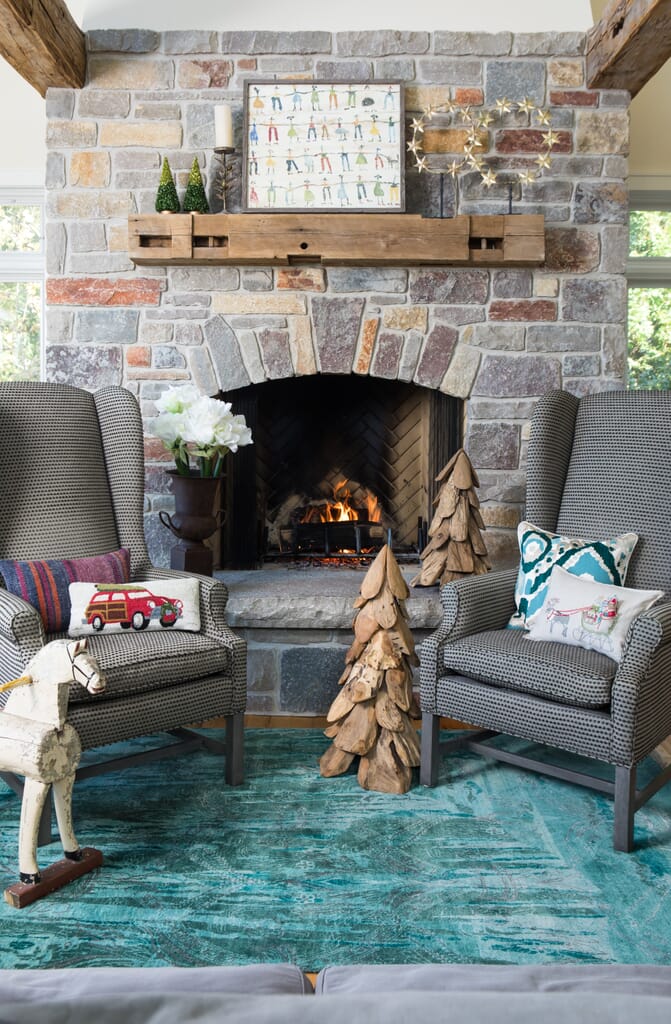 Designer Angela Solie-Borruso is heavily influenced by her children and believes the holidays should represent all things happy and fun. To create her whimsical holiday mantel look, she incorporated doses of color wherever possible.
The antique horse was incorporated to be reflective of the child inside all adults as we reminisce about holidays gone by. The wooden trees also have a fun, homespun look and are not typical Christmas decorations. While Angela decided to utilize the trees in front of the fireplace, she also envisions them on a front porch or in a foyer.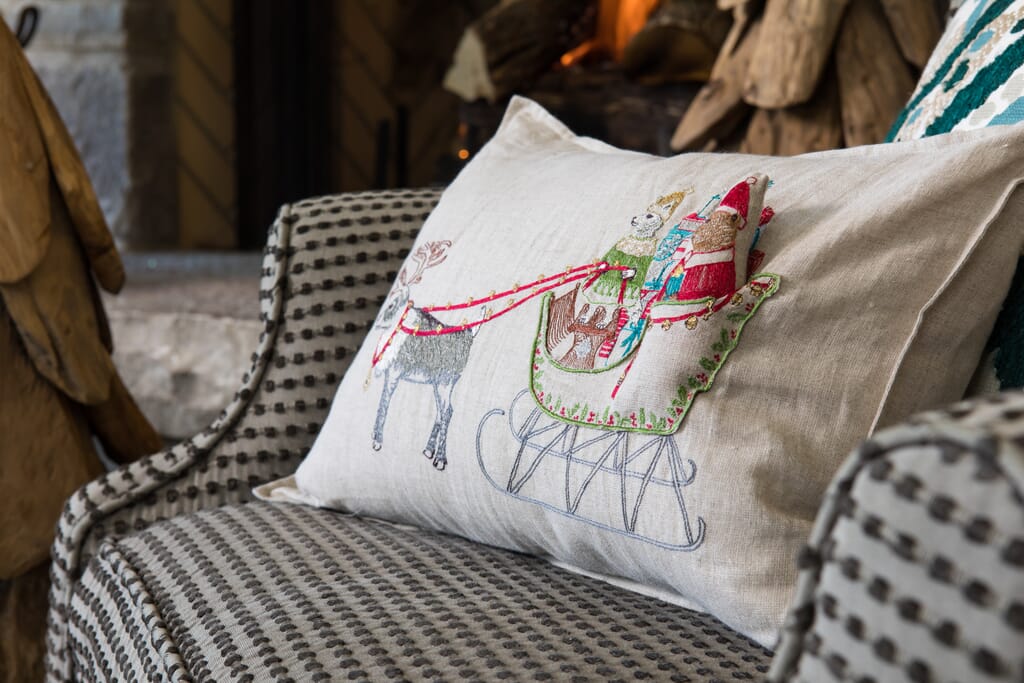 Angela put her own twist on traditional holiday decor and utilized unexpected elements that still nod to the nostalgia of the season. In looking beyond the classic red and green color palette, Angela was able to infuse her style and create a truly joyful holiday mantel look.
Meet our design team here!