We often refer to our interior designers as experts. The reason for this includes a combination of several factors: their technical knowledge, their years of experience in the field, their passion for the craft, and their keen ability to take on any client's design personality and transform it into a space that each client feels is truly their own.
So when the opportunity arose to give two of our interior designers a chance to show off their own unique style, everyone was immediately on board. Julie Kanugh and Sarah Chaignot, both interior designers at our Appleton store, gave our Eden Sectional a fresh look for spring with their own signature styles. Keep reading to see how each designer approached this fun project.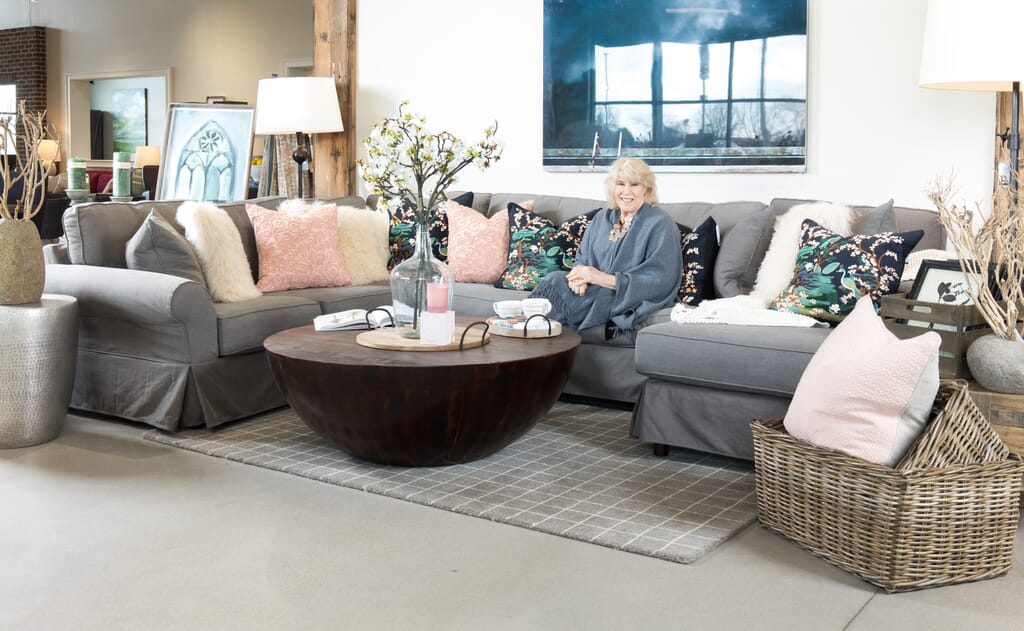 Sarah
With over 40 years of interior design experience, Sarah Chaignot has had plenty of time to hone in on her style preferences. She approached this traditional, skirted sectional as she would any design project: with a plan to add plenty of texture. She achieved this with a mix of feminine blush crewel pillows, soft ivory fur pillows, and fun peacock and cherry blossom pillows showcasing vibrant shades of jade green and blush pink against a black backdrop. The current popularity and freshness of teal and rosé wine shades led Sarah to this color palette for spring.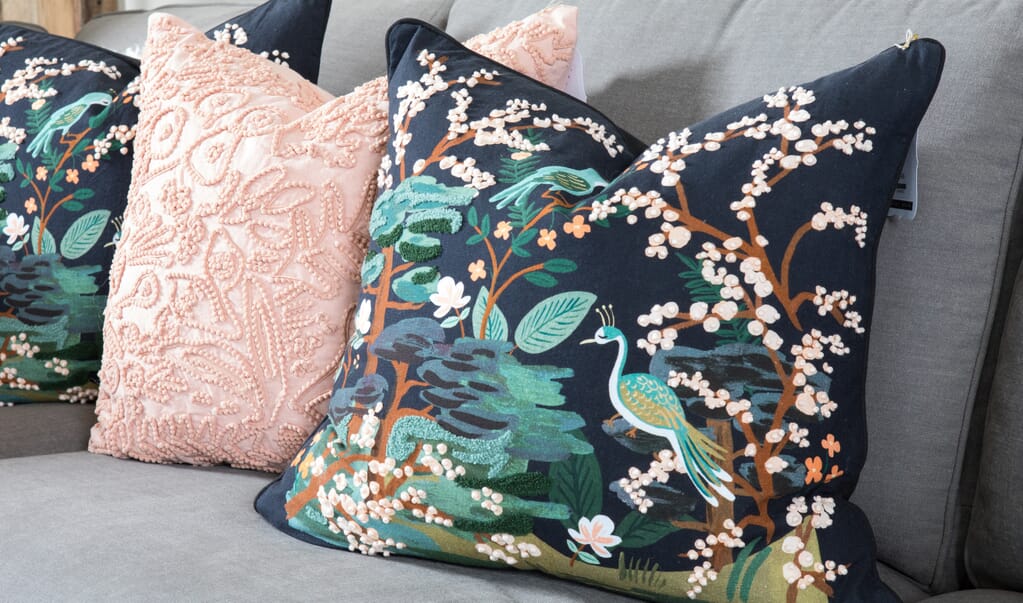 With the primary focus on the textured look of the sectional, Sarah wanted to keep the accessories clean and simple. Natural elements were brought into the look with a sustainable, reclaimed wood coffee table, woven baskets, and small bunches of branches housed in clear glass or natural stone vessels.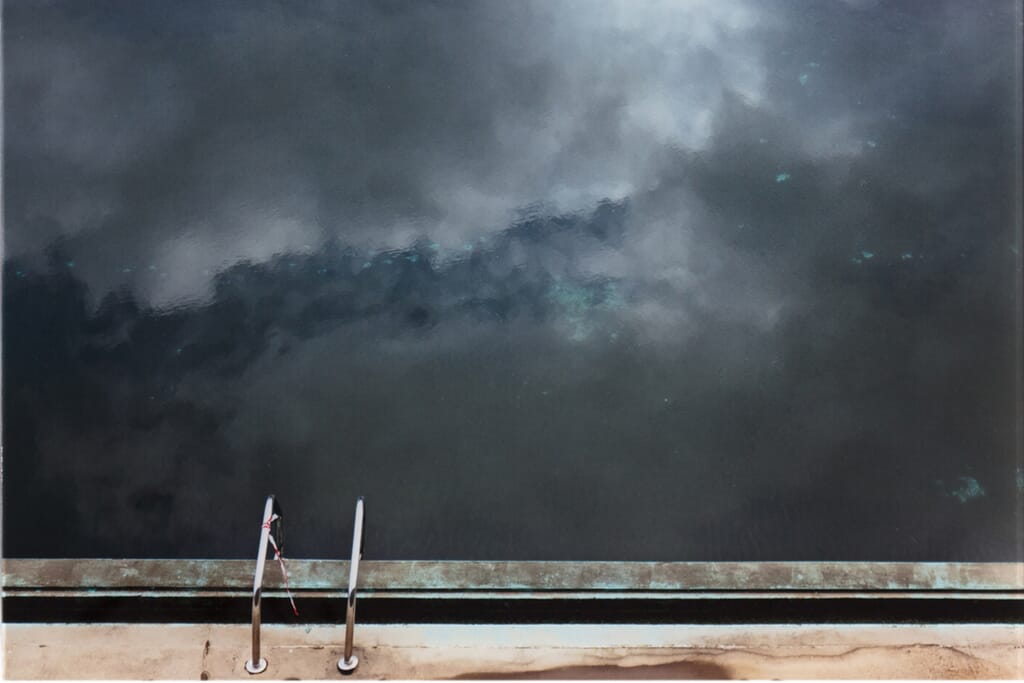 The high gloss pool reflection art that hangs above echos the colors of the peacock and cherry blossom pillows and adds another dimension of visual interest, beautifully tying this entire look together.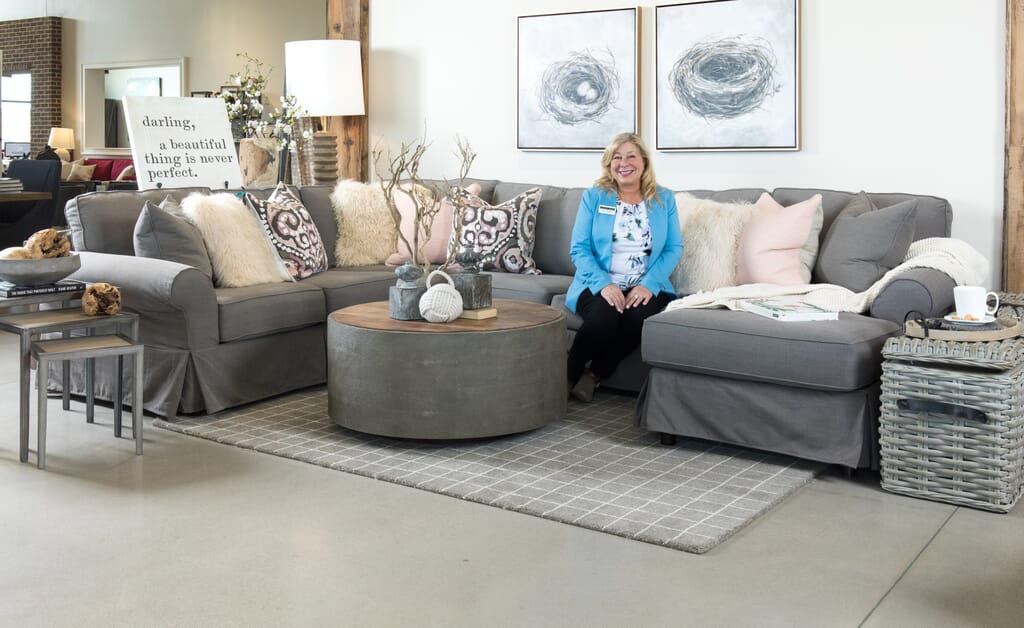 Julie
With over 25 years of experience, Julie Kanugh believes that less is more. She loves to incorporate monochromatic colors and elements of earthiness whenever she can.
For her spring look, she found inspiration and a starting point in the bird nest wall art that hangs above the sectional. The neutrality and freshness of the bird nests were echoed in a basket end table on one side of the sectional and small bunches of twigs as a coffee table centerpiece.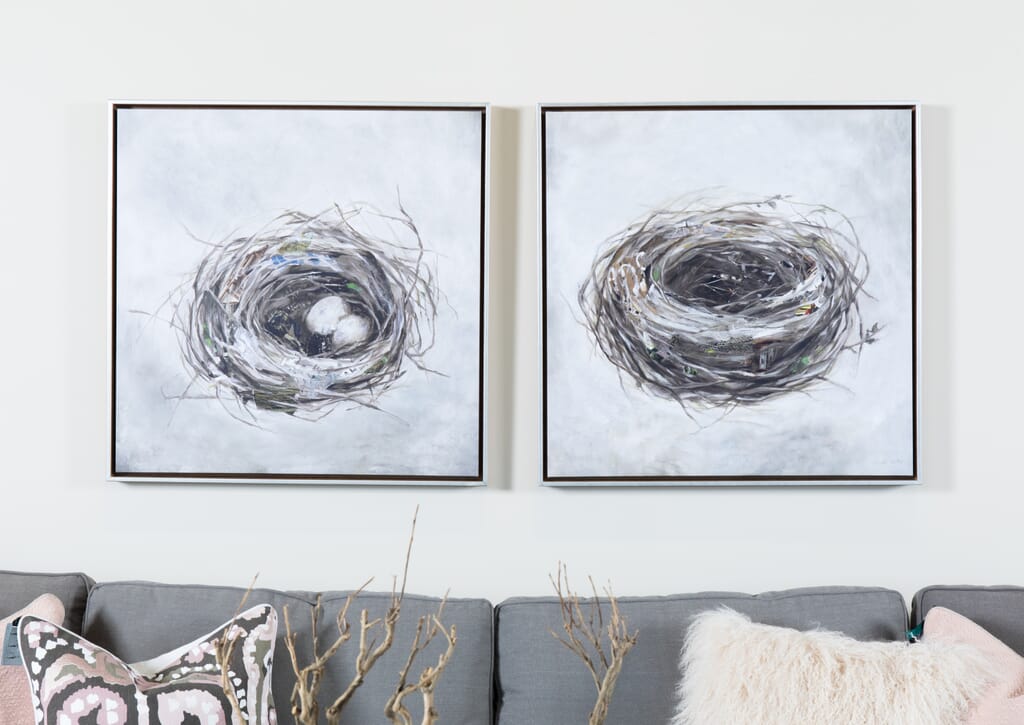 The blush pink and ivory fur pillows were chosen to add further visual and tactile texture. Julie strongly believes in the impact of texture, and says it can have a greater effect than even color or pattern. The blush pink colors also create a calm and relaxing environment that perfectly matches the sectional's high-comfort design.
While the use of blush pink tones may seem overly delicate and feminine, Julie provided a perfect balance by incorporating masculine accents like a heavily textured wood coffee table and metal side tables.
As her final look neared completion, Julie added one last touch that stays true to her design philosophy of always including something that makes her smile. For this project, it was a reclaimed wood art print with the phrase, "Darling, a beautiful thing is never perfect."
And while that sentiment may be shared by many, we'd like to argue that both spring sectional looks are beautifully perfect in capturing the unique design personalities of each designer.