Located on the bay of Green Bay, our founder & CEO, Jim Greene, shares a virtual tour of his family's Door County vacation home—where comfort and hospitality are present in every impeccable design detail.
But this design story begins long before the Greene family ever moved in. In fact, it begins well over a century ago with the construction of three log cabins. Fast-forward to circa 2005 when John and Patti Meyer—more well-known as the dynamic duo behind Green Bay's Beam and Board—were on the search for a tiny cabin for maple sugaring, also known as a sugar shack.
In the end, their search produced a total of nine log buildings—three of which became the foundation for what is now a beautifully rustic vacation home nestled in the Door County Peninsula.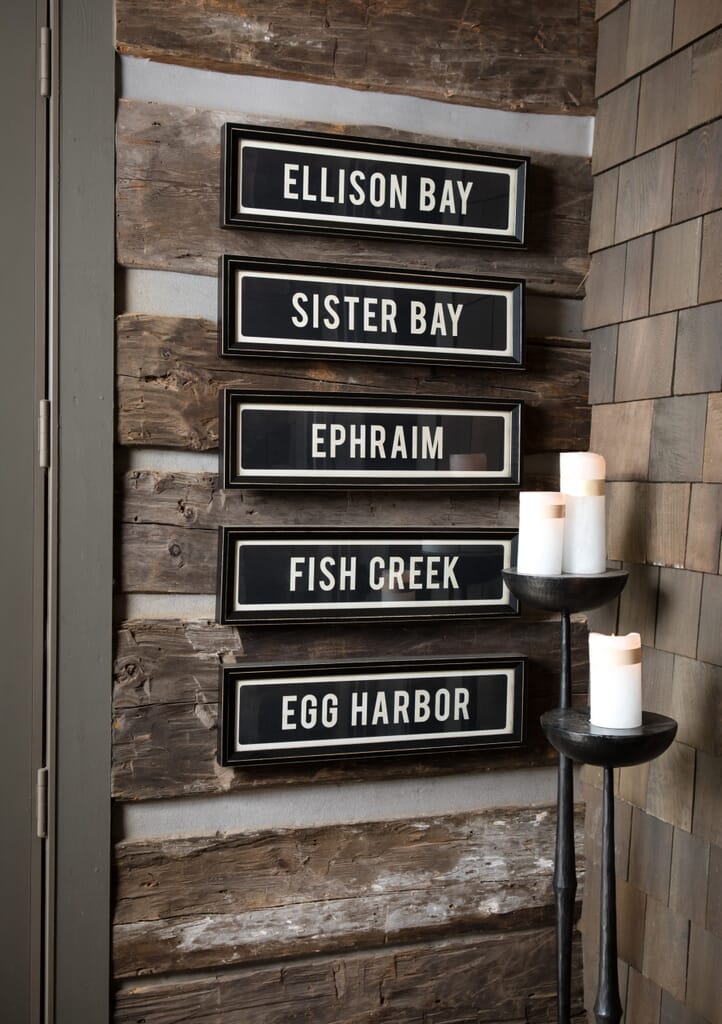 An assortment of custom signs showcases the Greene family's affinity for Door County
Wanting to build a vacation home for their family while enjoying waterfront views, the Meyer family commissioned a project in which each of the three cabins were painstakingly reconstructed and joined together with a galvanized roof, glass breezeways, and quaint hallways. Hallmarks of the cabin's historic character are evident in the hand-hewn, dovetail-notched timber from old-growth trees found throughout. Tongue-and-groove pine plank walls are also on display, as well as reclaimed wood found in the floor planks, ceilings and stairs.
Beautifully joining the wall between the living room and dining/kitchen area is a stone wall complete with log fireplace. The new living room section is defined by glass breezeways on either side that provide a gorgeous view of Door County's pristine waterfront appeal, regardless of the season.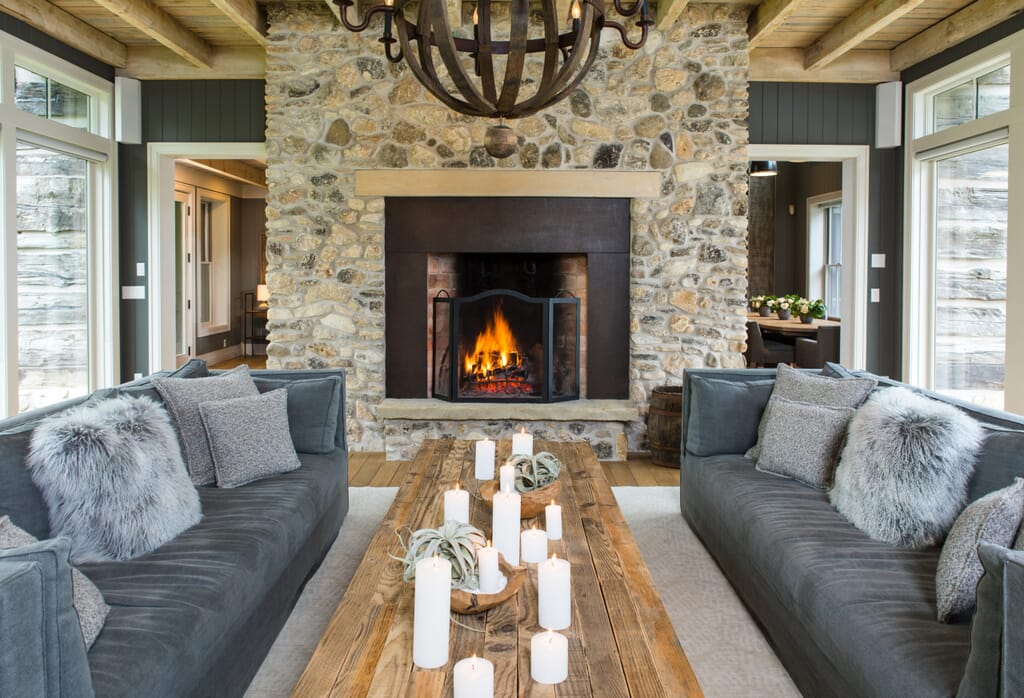 An impressive stone wall with log fireplace serves as the focal point and dividing wall between the main living area and kitchen/dining area. Custom Verellen sofas flank the fireplace, along with a reclaimed wood coffee table.
By embracing the rustic, European log home design, the Greenes found ultimate flexibility in furnishing and designing each space within. Their approach aligned with the old-and-new appeal of the home and adhered to the philosophy of the August Haven brand, which includes the following beliefs:
Appreciating the joy of creative expression and aesthetic beauty is paramount to living fully.
Great design is unconfined by convention yet observant of time-honored design principles.
Your home should be a reflection of your take on creative expression and shouldn't be confined by adherence to a specific design genre.
Nothing makes a space a reflection of you like sentimental or "found" objects that speak to you.
Mixed media and varied construction materials are an important tool in crafting a room's emotional ambience.
Nothing synthetic can match the rich ambience of natural product offerings.
Creative expression's subject matter is more compelling when it reflects your attitudes, aspirations and experiences.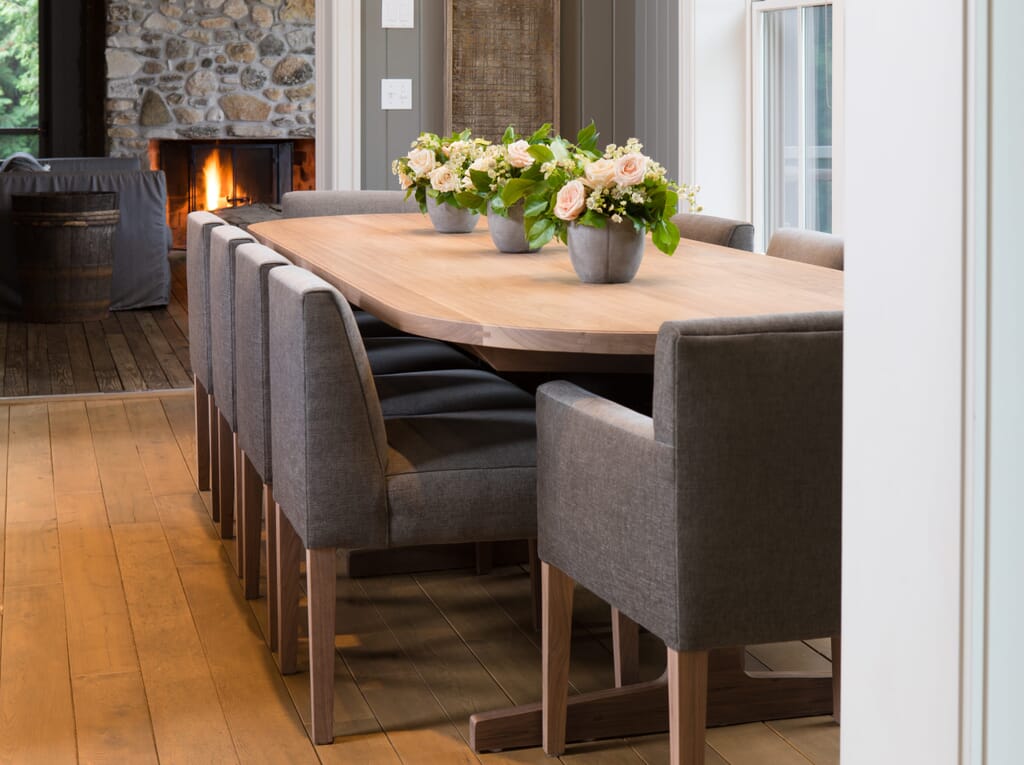 A custom order dining table and dining chairs from Verellen. Ask a sales associate for details.
As a result, the Greenes selected a curated mix of tried-and-true staples from August Haven that embrace inviting design elements, timeless neutral palettes, enduring fabrics and organic textures with natural finishes. These staples include handcrafted furniture from Verellen, Belgian linen throws from Libeco and bed linens from Pom Pom at Home.
In addition to new and custom pieces, the family incorporated a healthy mix of one-of-a-kind accents including European-inspired antiques and found objects—several of which were hand-selected by the Greenes' two daughters during a family visit to the High Point Furniture & Accessories Market in High Point, North Carolina.
As a surprise for Jim's 50th birthday, his wife and daughters traveled to the bi-annual furniture trade show—the largest of its kind with exhibitors from across the world—to celebrate the personal milestone together as a family. It was there they found one-of-a-kind pieces that spoke to them in a way that helped them envision the ultimate aesthetic and ambience of the family's vacation home.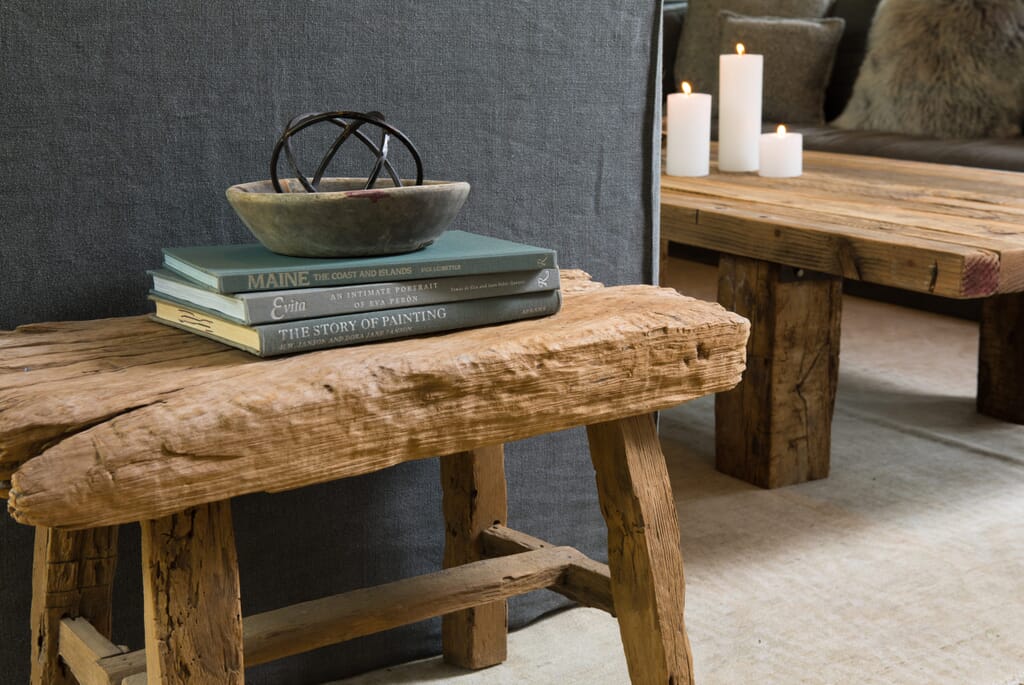 An organic teak stool is just one of the many found objects throughout the home
Much of the artwork displayed throughout the home is from contemporary abstract artist Scott Kerr, bringing a modern counterpoint to balance the organic forms and aged characteristics of the found objects and antiques in nearly every room.
Supplementing the abstract art from Kerr are sentimental pieces from a collection belonging to Roger Langlois—a dear family friend who passed away in 2016. Langlois—a man who was "well-read, well-traveled, and sophisticated, with a long list of unusual interests and hobbies…he was a master at yoga, a world-class fencer, an author, an antiques collector, chef, gardener, art collector and interior designer," as described in the August Haven brand story written by Jim Greene himself.
Not only was Langlois a dear family friend, but a significant influence on Greene's life from young adulthood until Langlois's unexpected passing decades later. In retrospect, Greene says, the contentment Roger gained from his pursuit of knowledge and aesthetic beauty was very intriguing and closely served as Greene's inspiration in creating the August Haven brand in 2011.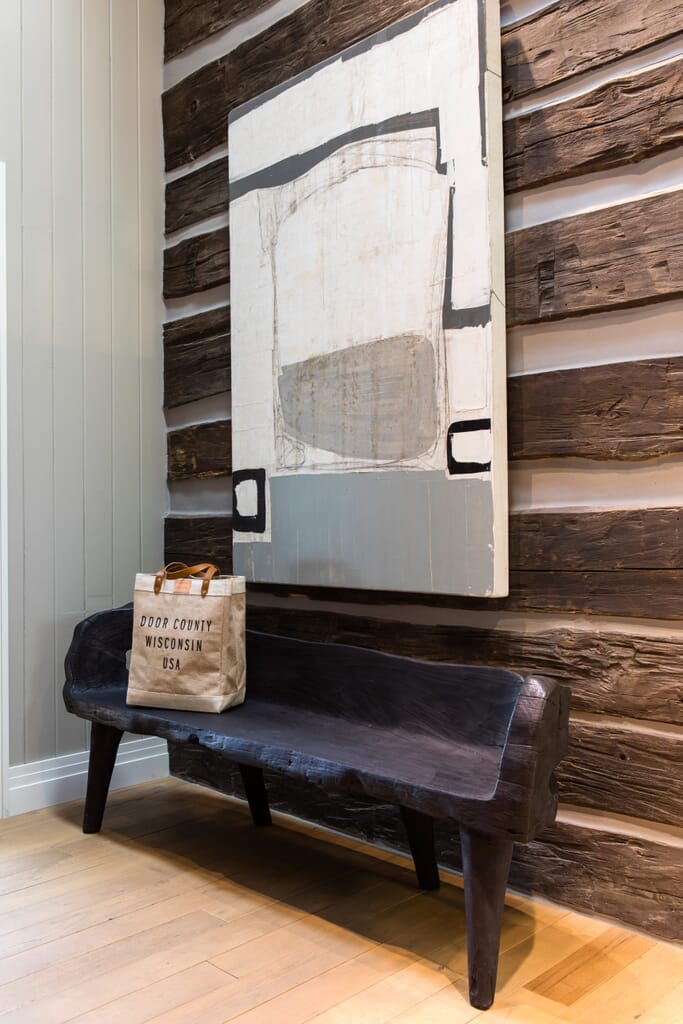 A black organic teak slab bench serves as the foundation for this vignette, complete with original art from contemporary abstract artist Scott Kerr. Door County Market Bag found here.
Now that the home is fully furnished, the Greenes have been able to spend quality time as a family and host gatherings for their closest friends from the comforts of their home-away-from-home. Considering the cabin's humble beginnings over a century ago to its modern-day comforts passed on from one visionary family to the next, it's safe to say these rustic walls and stone façades haven't just created home—they've reinvented history.
Click here to view the full design portfolio