In choosing decorative objects for our home, we are choosing to bring in an additional layer of appeal and the opportunity to display our unique sense of self—our authenticity. These objects can reflect our sense of style and taste and elevate the joy of our surroundings.
Sometimes, these objects can take on a second life if we repurpose them as vases and vessels using fresh flowers and preserved botanicals.
(Cue your favorite local florist!)

Recently, we challenged Green Bay area florist and owner of Petal Pusher, Nichole Campbell, to repurpose several August Haven objects into seasonal floral arrangements. The floral elements used were almost entirely grown right here in Northeastern Wisconsin and the vessels were selected at random from our August Haven showrooms.
First up? Our one of a kind, Bleached Spikey Vase. This piece intrigues all on its own, but with the addition of a small piece of glassware (Nichole used an everyday floral delivery vase you might already have on hand, but a mason jar will work just as nicely) this piece took on the ability to hold fresh blooms. Nichole used an easy selection of snow country ivory dahlias, areca palms and seeded eucalyptus for a minimal, but stunning look.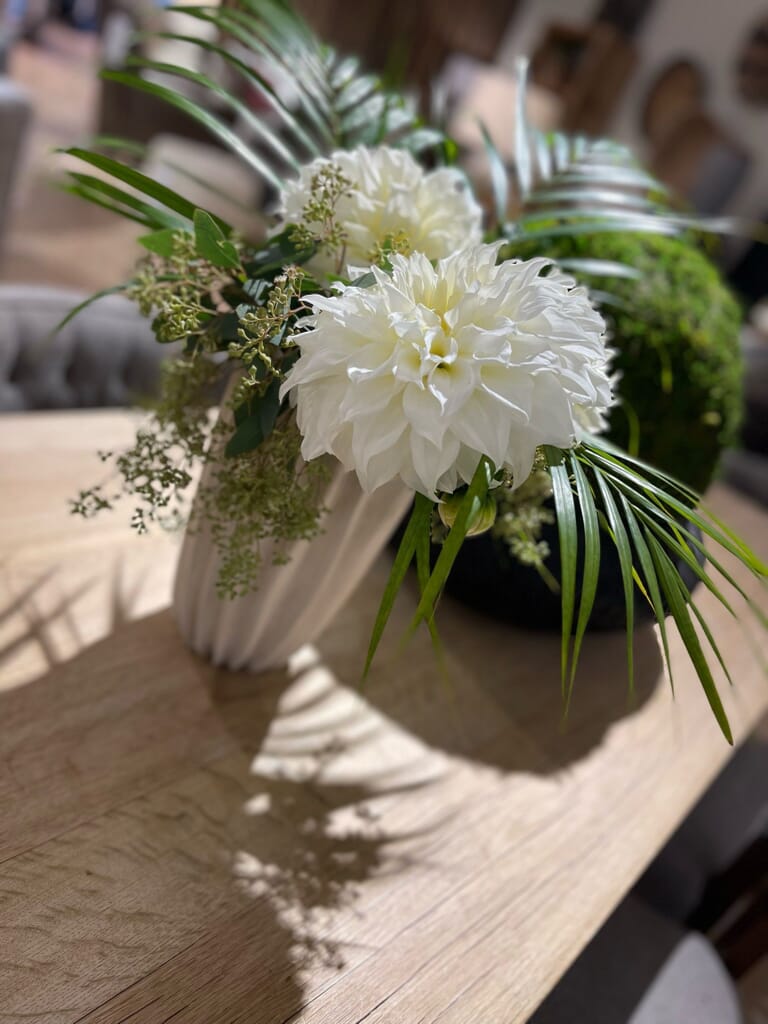 Next, our Recycled Glass Planter on a metal stand. This shape would typically call for a quick display of small greens or just a few stems, but utilizing its form and the inherent structure of fresh eucalyptus and tiny divot in the base, Nichole created a piece with greater presence and height. A tightly bound bouquet of Abyssinia gladiolus took center stage.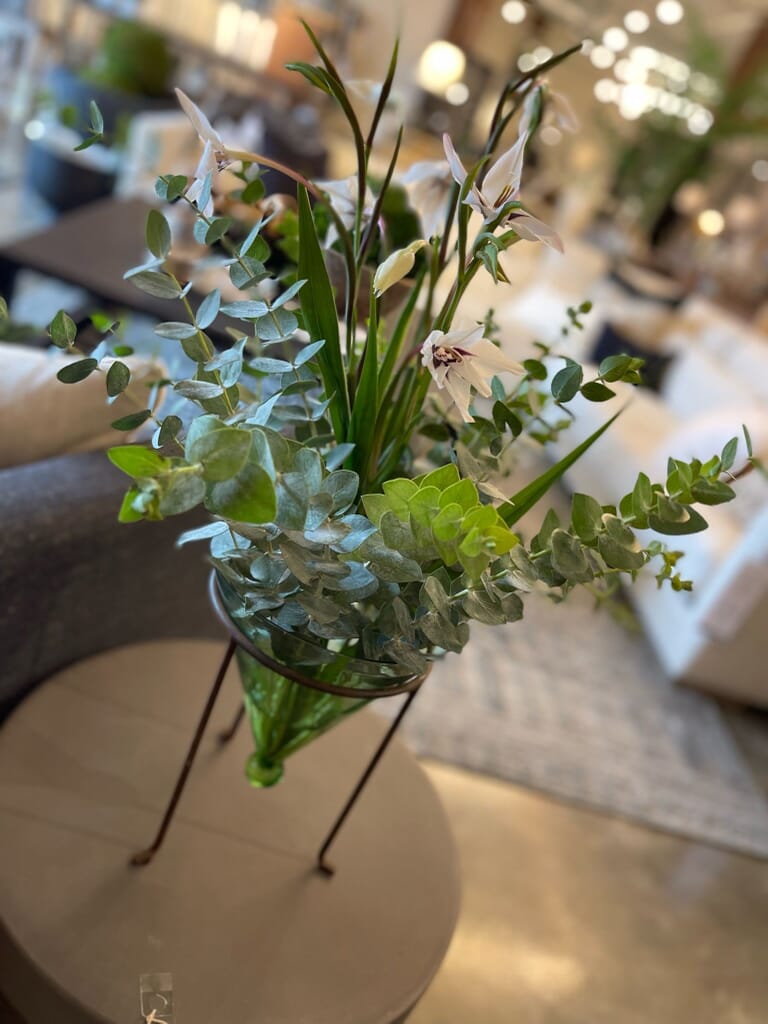 October is when those deep oranges and burnt yellow tones really begin to shine, so with our third piece, the Santa Ynez Vase, Nichole reached for seasonal favorite, the Chinese lantern. The vase itself is made of recycled metal barrel fragments and brass rivets. By placing a small bit of webbing inside the vase (simple chicken wire will also work) Nichole created a structured base to layer in dried shelf fungus and dried Ping Pong scabiosa. No water required and the end result is a gorgeous, bright piece that will last for weeks as we head further into the autumn months.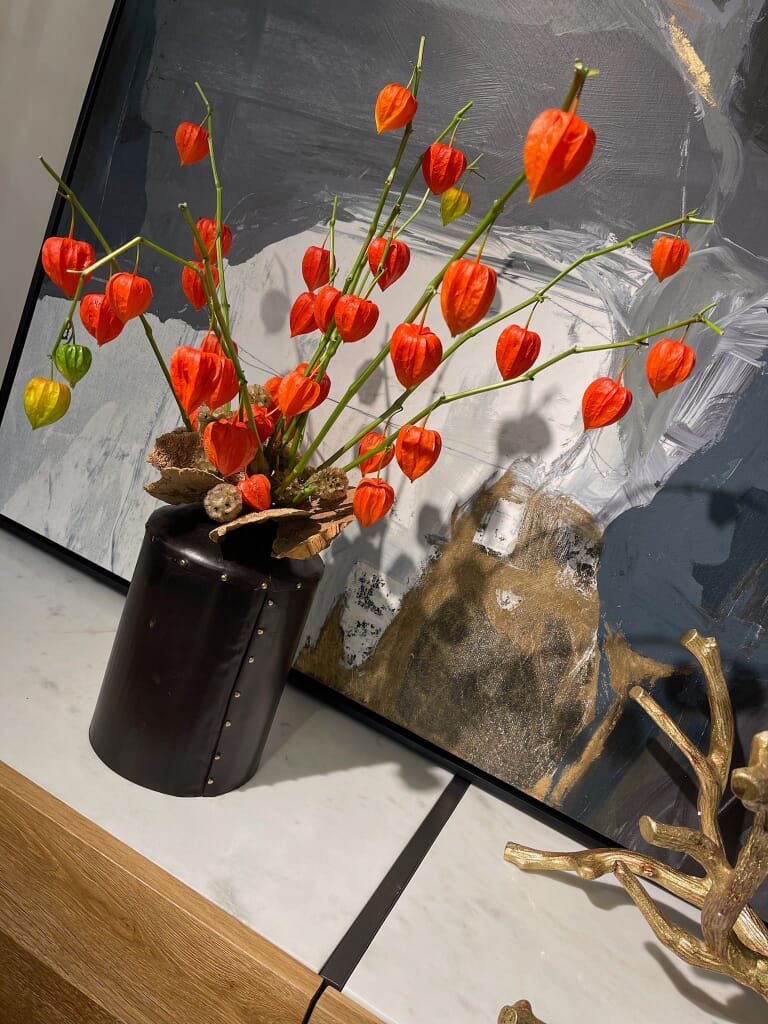 Nichole's final creation was born of an August Haven large, decorative ginger jar. Nichole set aside the top and began layering in Shepherd's Purse to create structure. She then began weaving in broom corn, young pampas, sea oats, dry bleached poppy seeds and bunny tails. Nichole explained, "As the arrangement transitions, the color will shift and get bronzier which works really well with the vase's unique, iridescent green finish."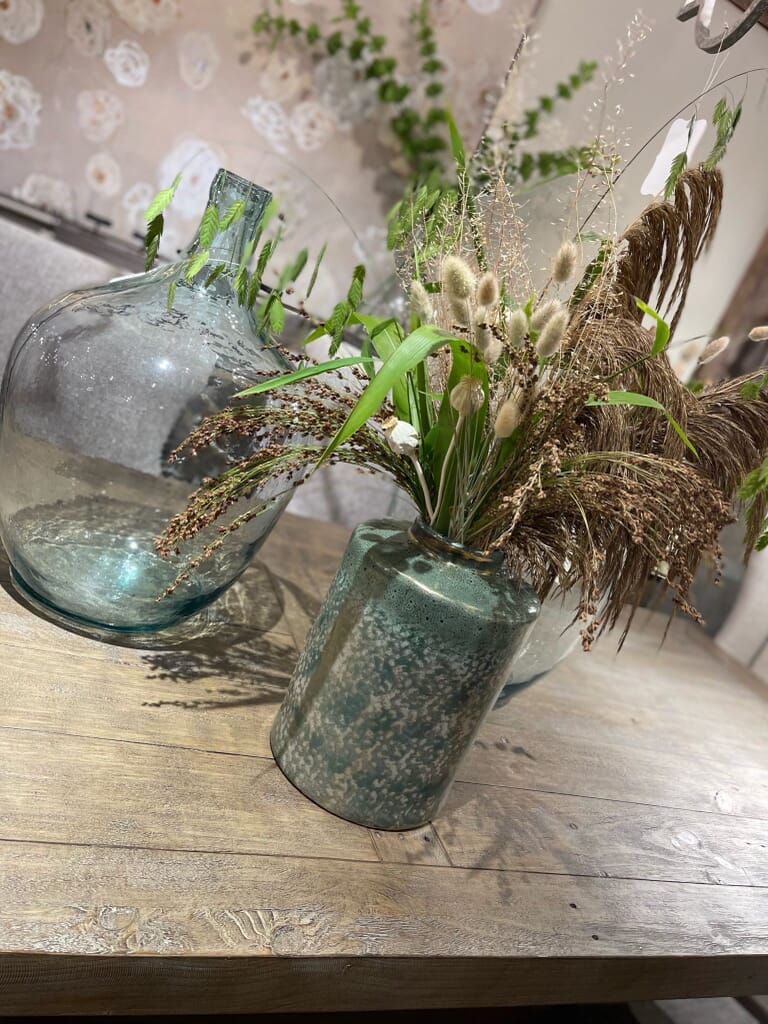 As we welcome October's chillier temperatures and stay inside a bit more, consider bringing in some of the autumn outdoor beauty with you. It's as easy as bringing your favorite accessories to your local florist.