Even the most well-designed interior needs a refresh every once in a while. We suggest analyzing your space with every seasonal change, at a minimum, and asking yourself a few questions:
Is the layout and overall design still working for me/my family?
Is my space achieving the look and feel I intended it to?
What (if anything) would I change?
Once you've answered these questions, you'll be on the right track to refreshing your space in a way that reinvigorates and re-inspires you. It may be as simple as needing to swap your bedroom and living room rugs, or adding an extra handful of new accent pillows to your sectional.
Because your seasonal refresh shouldn't be complicated, we've come up with a list of six easy style updates that anyone can do, any time of year. And as always, our interior designers are on-hand to solve any design dilemmas or to schedule an initial consultation as part of our in-home design services!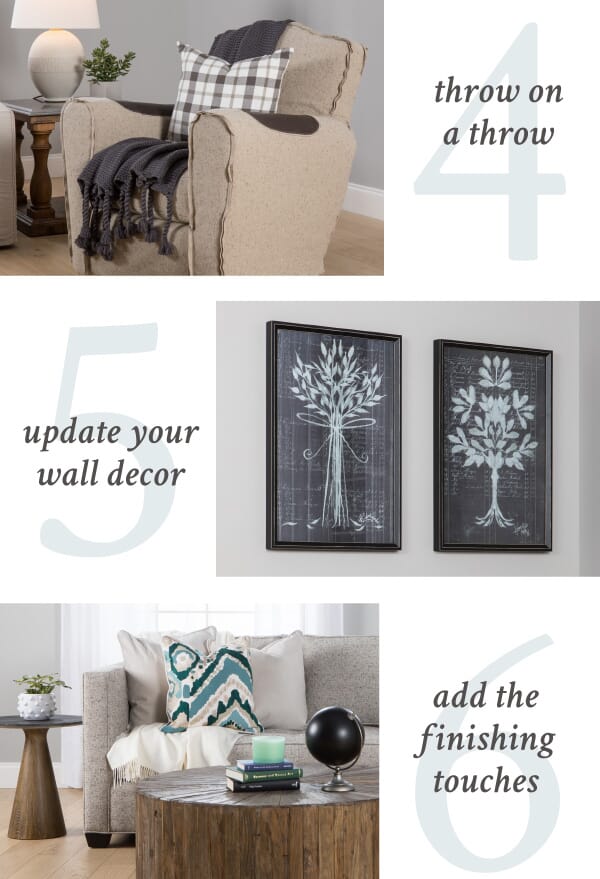 1. BRING ON THE PILLOWS
A simple refresh of your seating pillows can do wonders in making your space feel entirely new. Incorporate different colors, patterns, sizes, textures or arrangements to keep things interesting.
2. REFRESH YOUR RUGS
If you don't want to buy something new, try swapping a similar sized rug from another room of your home (as long as it coordinates with the furnishings in the space).
3. LAYER IT ON
When it comes to your bedroom, seasonal updates to your bedding can really make an impact and make your bedroom feel fresh. In colder months, don't be afraid to layer on bed coverings, pillows and shams in different sizes, colors and textures. In warmer months, shed a few layers and update the ones you have with breathable, lightweight fabrics.
4. THROW ON A THROW
A simple throw can make any room feel that much cozier with a nonchalant toss. This works equally well in seating areas and bedrooms. In colder months, embrace cozier throws like this XL Throw favorite of ours. In warmer months, keep it light and airy with these linen options.
5. UPDATE YOUR WALL DECOR
Sometimes all you need is something new to look at. The options for wall art are endless: photography (in color or black & white), paintings, prints, framed art, canvas, and the list goes on. Just keep the dimensions needed to best fit the wall space in mind as you shop, regardless of whether you're choosing one large piece or multiple smaller pieces. If you already have framed art with personal photos on display, an easy update with more recent favorites can do the trick.
6. ADD THE FINISHING TOUCHES
Sometimes all it takes is adding a small stack of books with a candle to your coffee table or choosing a different sized table lamp to make all the difference in the world. If your space feels too visually cluttered or busy, it's absolutely okay to remove some pieces (even if they've been there forever!). On the other hand, if your space feels too bare, add a piece or two at a time where your room needs it most. Revisit and reassess after you've lived with it a few days.