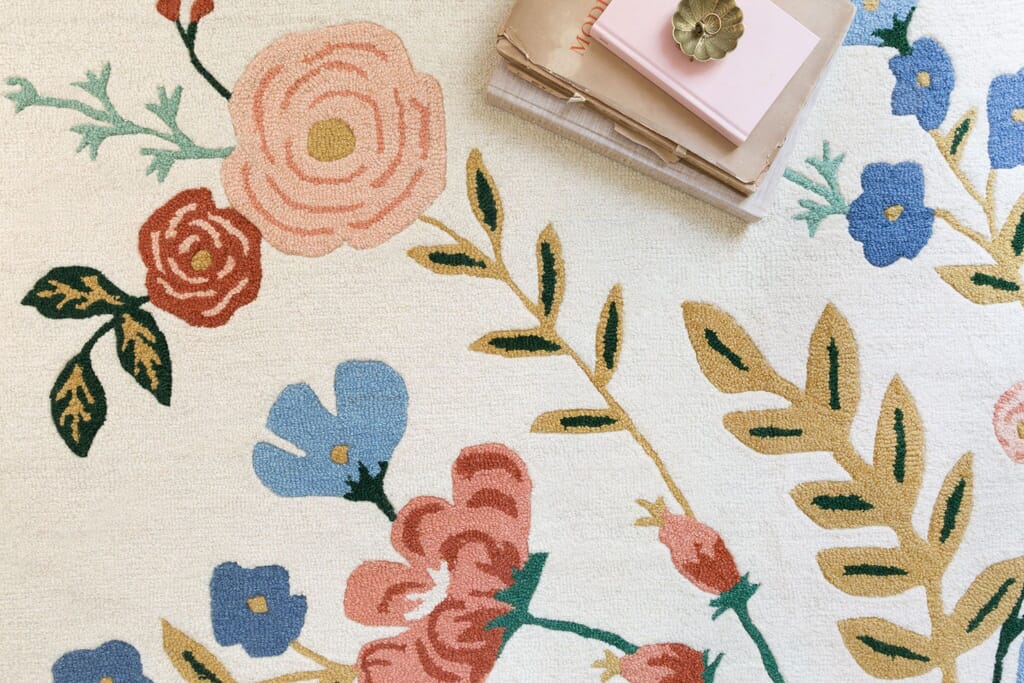 One of the easiest ways to refresh your space is with a great rug. Deciding on just one among all the rug options available can be overwhelming, but we're here to help. Identifying your overall decor style is of utmost importance before you start. Once you have a firm understanding of which styles you're drawn to, it's easier to get started on the right foot.
We've chosen three of our favorite upholstery pieces to represent three very different interior styles. And because we all love options, our designers have provided a few different rug options that fit with each look.
A Pop of Color with The Isabella XL Sofa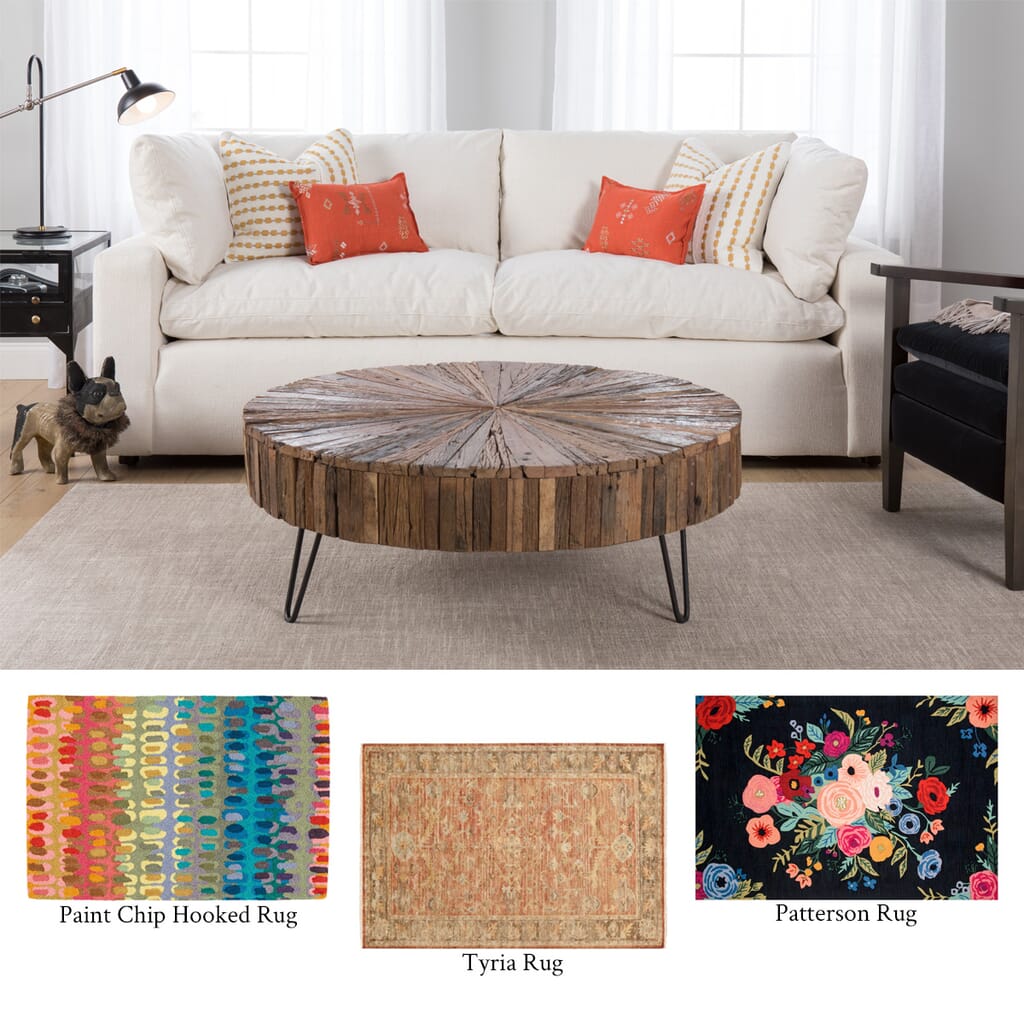 The Isabella XL Sofa's neutral upholstery lends itself to just about any rug style, but when paired with the feminine orange and yellow pillows—as we've done here—the focus becomes much more streamlined and our rug pairing suggestions follow suit.
Our Paint Chip Hooked Rug ties in to the orange accent pillows, but also incorporates several other colors. This is a great option when trying to link to other rooms with different color palettes.
Our Tyria Rug is more on the traditional side and creates a warm, welcoming atmosphere.
Our Patterson Rug grounds the entire look while infusing a floral, whimsical tone.
Neutral with a Twist with The Friday Sofa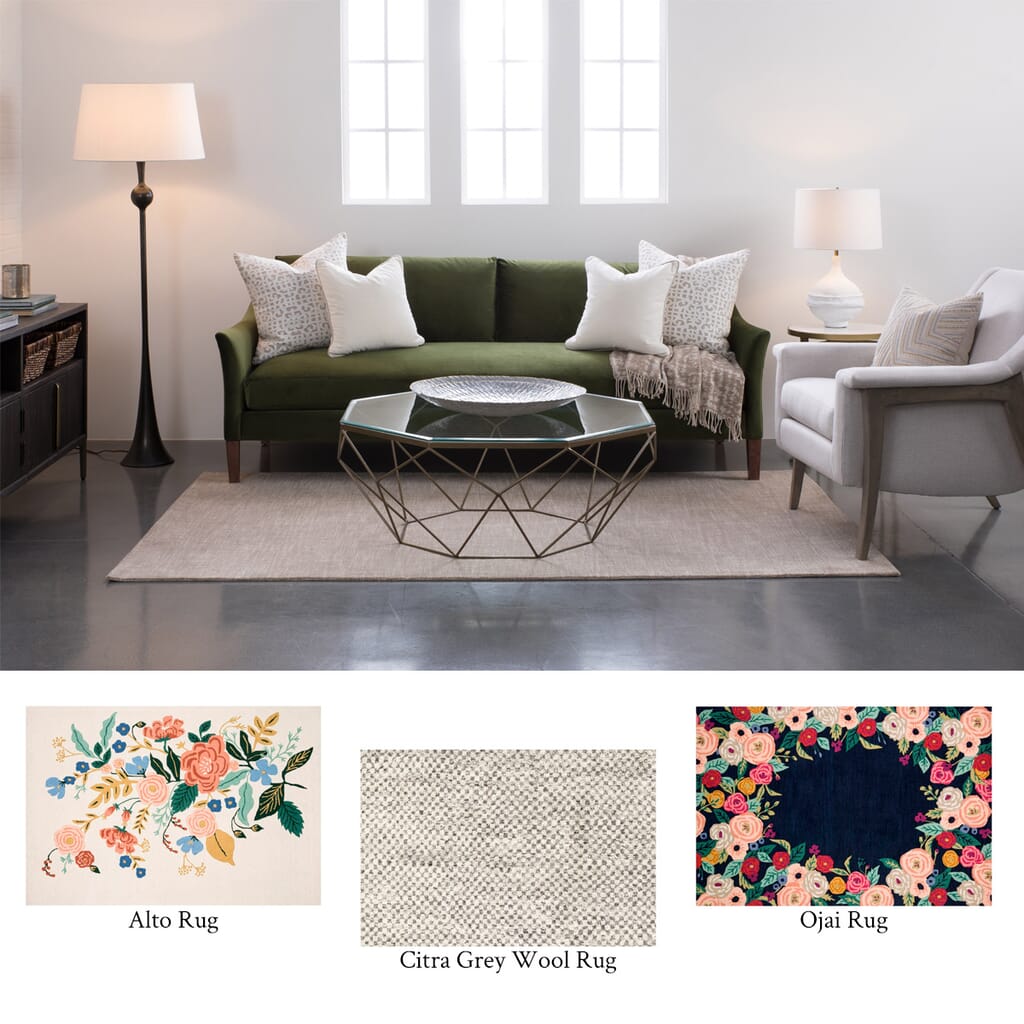 There are many things to love about our Friday Sofa, but perhaps the quality that stands out most is its ability to effortlessly present green as a neutral. While some may shy away from color as a focal point, the Friday Sofa's velvety green upholstery pairs equally well with neutrals or an edited spectrum of colors.
Our Alto Rug is a botanical option and brings out the green in a light, feminine way.
Our Citra Grey Wool Rug is plush and inviting, while the subtle geometric print allows the sofa to be the complete focal point.
Our Ojai Rug is also a floral option, but brings out the green more dramatically for those who want to make more of a statement.
Making a Bold Statement with The Mebane Sleeper Sofa

When you want contrast to be your focal point, look no further than our versatile Mebane Sleeper Sofa. A sofa by day and queen sleeper by night, Mebane's neutral upholstery was our cue to present a more dramatic look with rich black accents.
Our Temple Ink Micro Hook Rug is a calming option to help bring out the serenity of Mebane's sleeper functionality.
Our Pico Rug's vintage look helps to quiet the graphic pattern and adds interest in a more subtle way.
Our Martin Rug is a great way to bring in cooler greys and warmer taupes, and is therefore the more versatile option.
Visit our Green Bay or Appleton location to see a full selection of our in-stock rug options, as well as our extensive custom order rug samples.