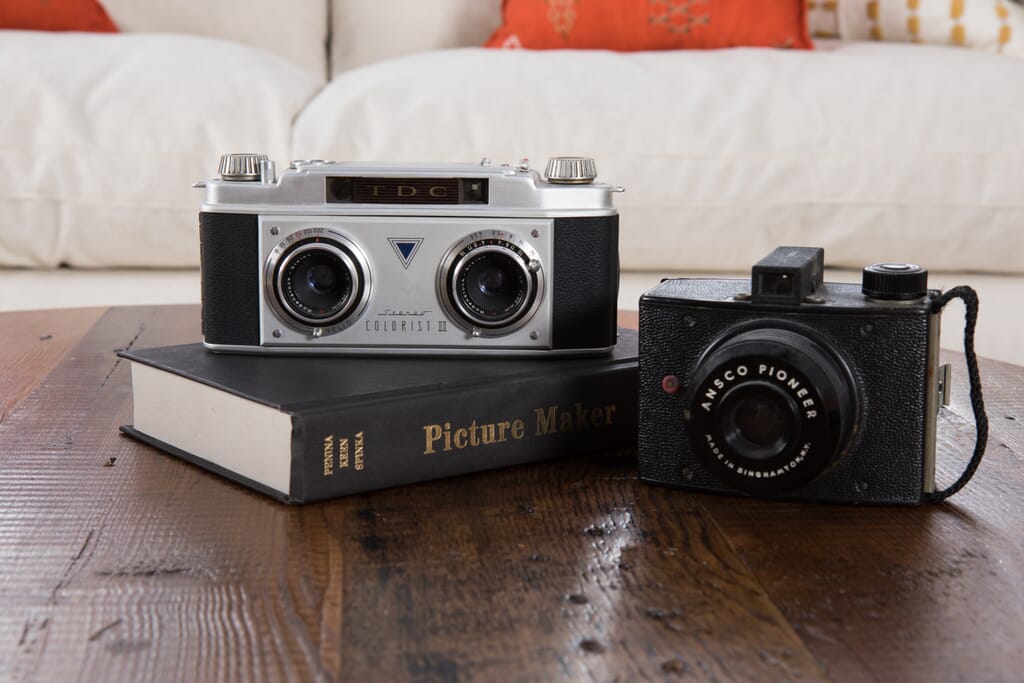 Your home tells a story, but it is the pieces within that detail the narrative. Every curve, every line, every subtle imperfection works together to not only tell your design story, but to define it.
So when customers come to us with personal treasures and the stories they hold – not to mention the potential design challenges they pose – we are inspired and invigorated. Because the challenge lies in not only incorporating the piece(s) within your home, but in keeping their stories intact while simultaneously weaving them into a new story that has yet to be told.
Enjoy the fifth feature in a new series called Past Meets Present highlighting the pieces you love, their stories from the past, and the design challenges they pose. Together with our design team, we can make them part of your design story for the present and future.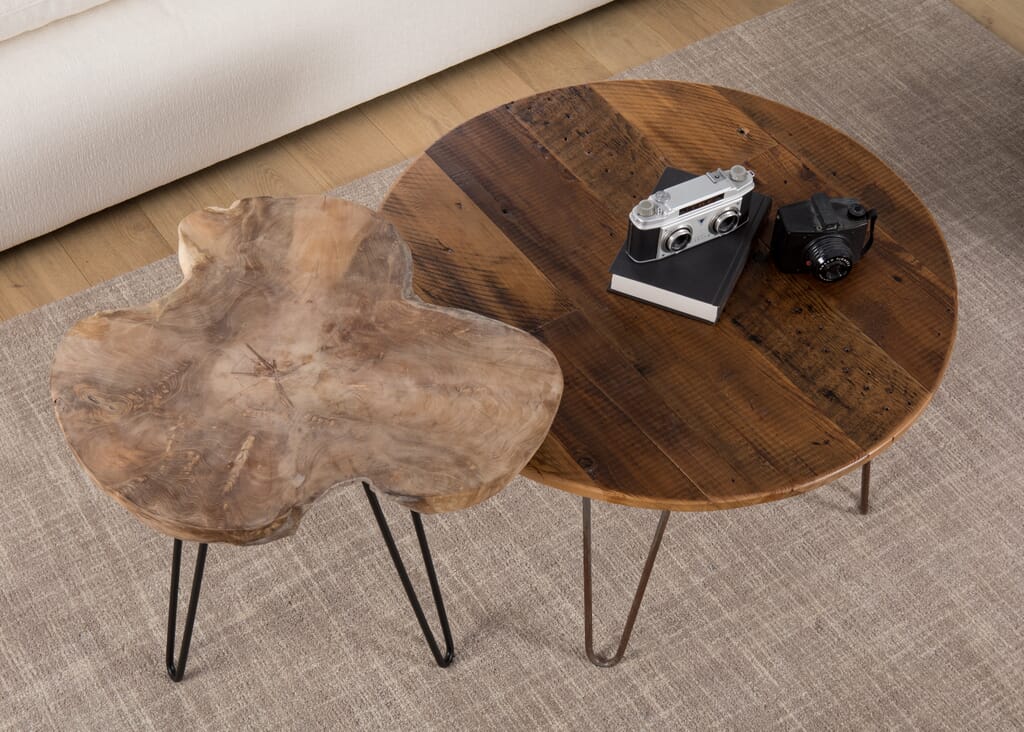 One Customer's Vintage Camera Collection
"I became interested in photography when I was twelve years old, and by high school I knew that I wanted to become a photographer. My grandma was one of the biggest supporters of my dream and gave me my first camera bag. I spent much of my childhood weekends at my grandparents' house, just a short walk down past the woods and creek from my dad's. My grandma was the glue that kept our family together, always gathering us together for birthdays, holidays, and just-because days. I remember big family meals, picking strawberries from her garden, and being a bridesmaid in her second wedding when she remarried after my grandpa passed away. I could talk to her about anything, including the difficult things, like my dad's divorce and how she dealt with breast cancer. She was a force of nature, though she'd probably not think so, and one of the biggest influences on the person I am today.
When I was 22, she passed away, and I was heartbroken. She would never see me graduate from college or become the professional photographer that I am today. After the funeral, I was home from college and visiting my dad. We went over to my grandma's house, the house I spent the first 12 years of my life in before she moved there. My dad asked if there was anything I wanted as a keepsake, but there was nothing much I wanted but to spend another day with her.
With that in mind, I was looking through the built-in drawers on the second floor landing and came across an old brownie camera that was my grandma's. Shortly after, I found another camera that my grandpa had gotten overseas. These were the first in what would become my vintage camera collection and the most important to me. I've found these photographic treasures in little nooks at thrift stores and been given many; one a tiny spy camera my sister-in-law gave me, one from dear friends when I moved away and had to leave my job, and even a turquoise one my boyfriend's mom found for me. These fit my eclectic nature along with the coffee table we built from reclaimed barn wood."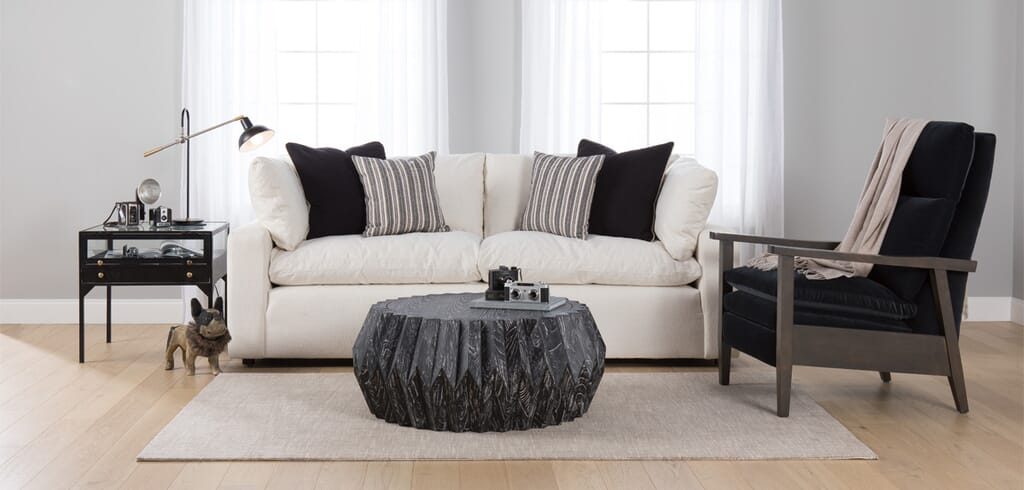 What Inspired Us
This amazing vintage camera collection inspired us to choose an end table that would both protect the treasures yet still make them visible. The table we ended up with does exactly that.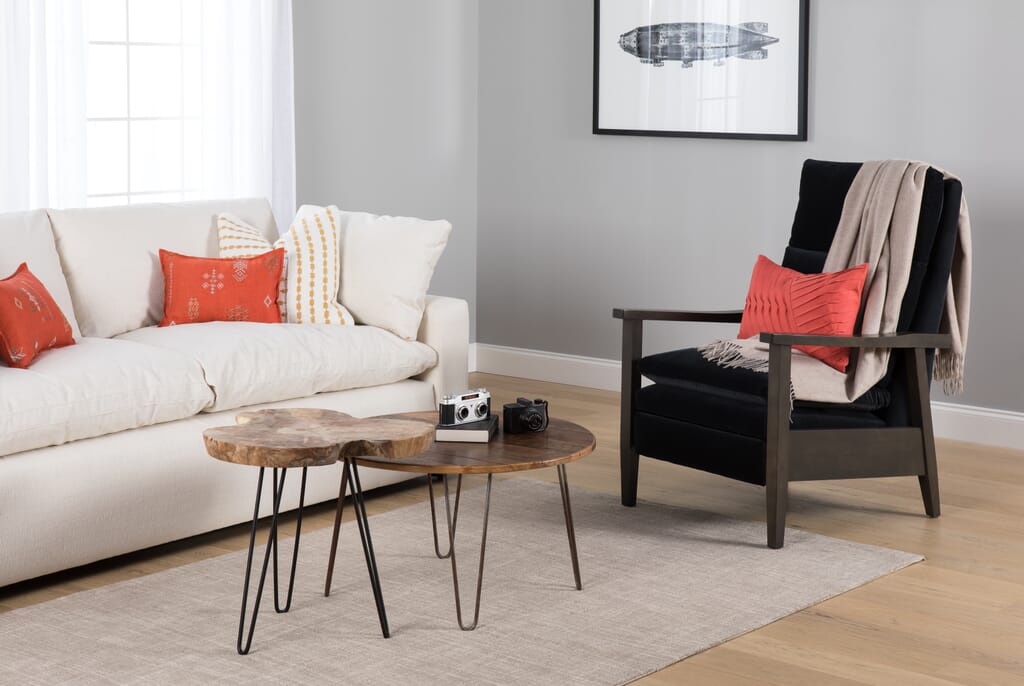 Pulling It Together
The black chair paired with the white sofa reinforces the contrast of this entire look and balances out the black side table on the opposing side. The artwork was chosen for its graphic nature and furthers the photography concept. We love the owner's handmade reclaimed barn wood table to reinforce the well-worn, collected nature of this story, but we needed to pair it with something else to give it enough visible weight with the absence of a traditional coffee table. Pairing it with one of our similarly styled tables did the trick and added warmth. We finished the look with colored accent pillows, which added softness to the otherwise monochromatic color scheme.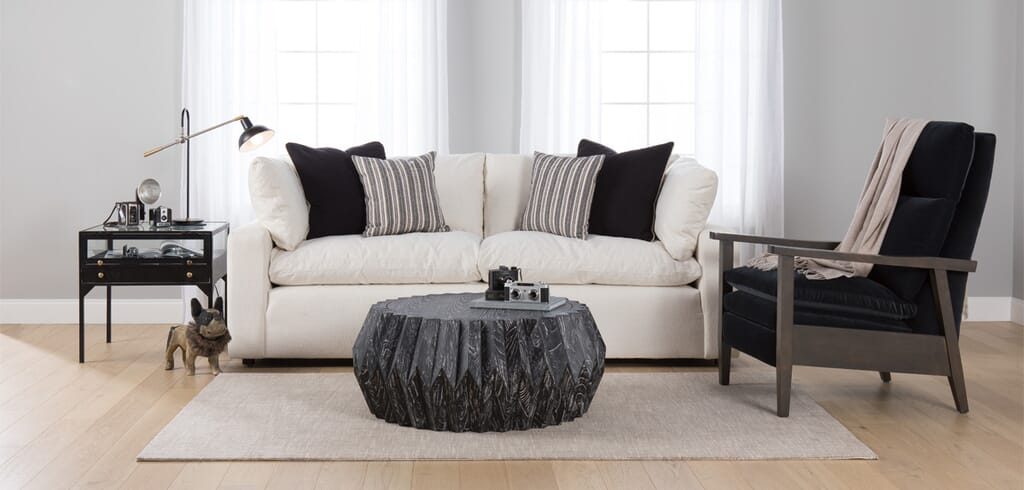 BONUS LOOK // For a black and white look that really incorporates contrast, omit the small touches of color used above and stick to black and neutral hued pillows instead. We also swapped out the two end tables and replaced them with an eye-catching coffee table in black.
If you have a personal heirloom, collection, or unique piece that you would like featured or is posing a design dilemma of your own, bring it in to our Green Bay or Appleton showroom and let one of our designers begin the process of helping you tell your own design story.