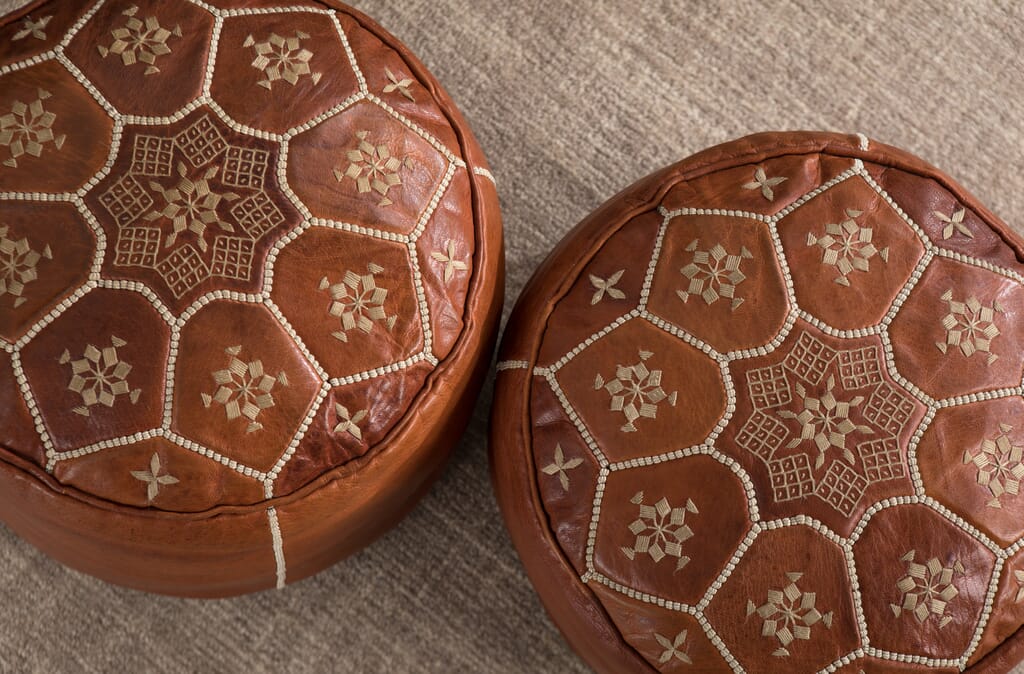 Your home tells a story, but it is the pieces within that detail the narrative. Every curve, every line, every subtle imperfection works together to not only tell your design story, but to define it.
So when customers come to us with personal treasures and the stories they hold – not to mention the potential design challenges they pose – we are inspired and invigorated. Because the challenge lies in not only incorporating the piece(s) within your home, but in keeping their stories intact while simultaneously weaving them into a new story that has yet to be told.
Enjoy the second feature in a new series called Past Meets Present highlighting the pieces you love, their stories from the past, and the design challenges they pose. Together with our design team, we can make them part of your design story for the present and future.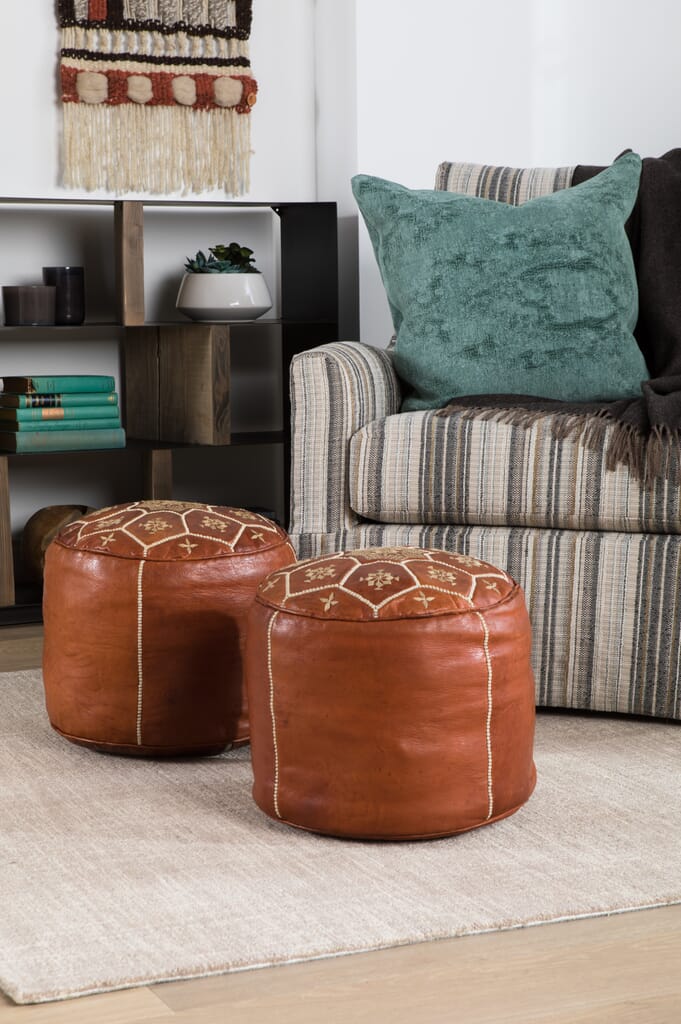 The Story Behind Two Moroccan Poufs
"We traveled to Morocco a few years ago and stopped in Fez, Morocco, where we stayed in the medina of Fez, which is the oldest walled part of the city and a UNESCO world heritage site. There we visited the Chouara Tannery, which was built in the 11th century. After our tour of the tannery, we ended up in the showroom where they sell finished products. My husband and I ended up buying these poufs because we thought they were really beautiful, and I loved the embroidery.
The poufs don't come with any filling; it's just the leather shell with a zipper at the bottom, which was actually nice because it made them much easier to bring back home. Once we got home, we researched some ways to fill them on our own and are really happy with the way they turned out."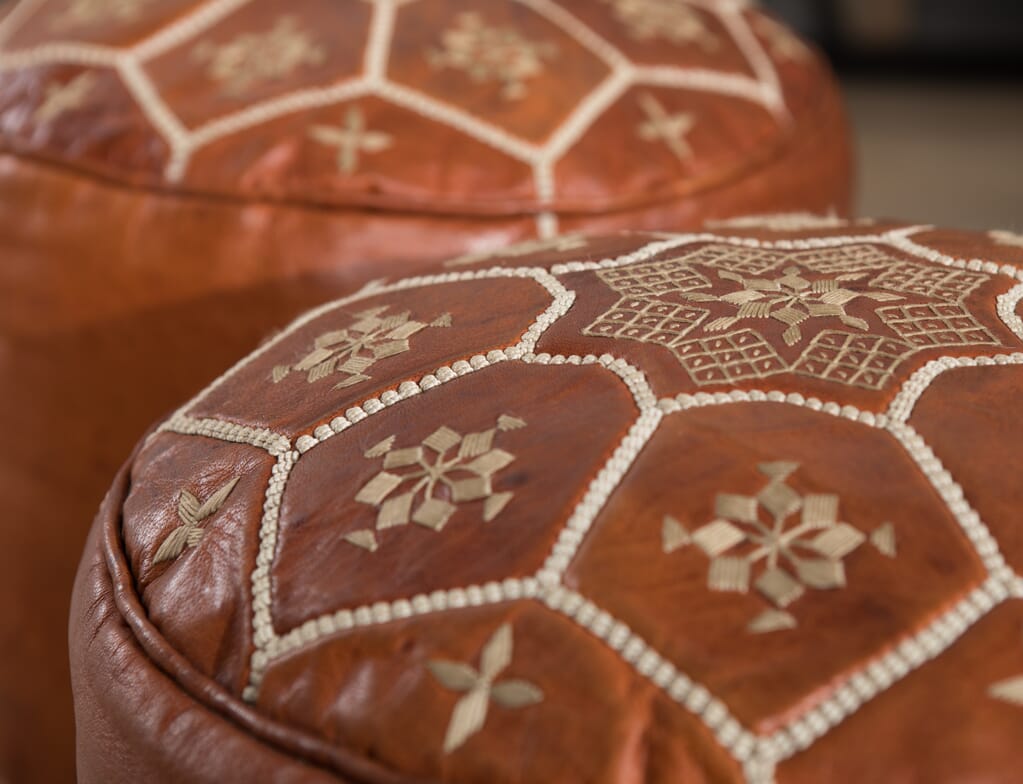 What Inspired Us
These poufs are such a great, authentic find and are a beautiful way to tell the story of this couple's travels to Morocco. Poufs are a great addition to any space for putting up your feet or adding extra seating.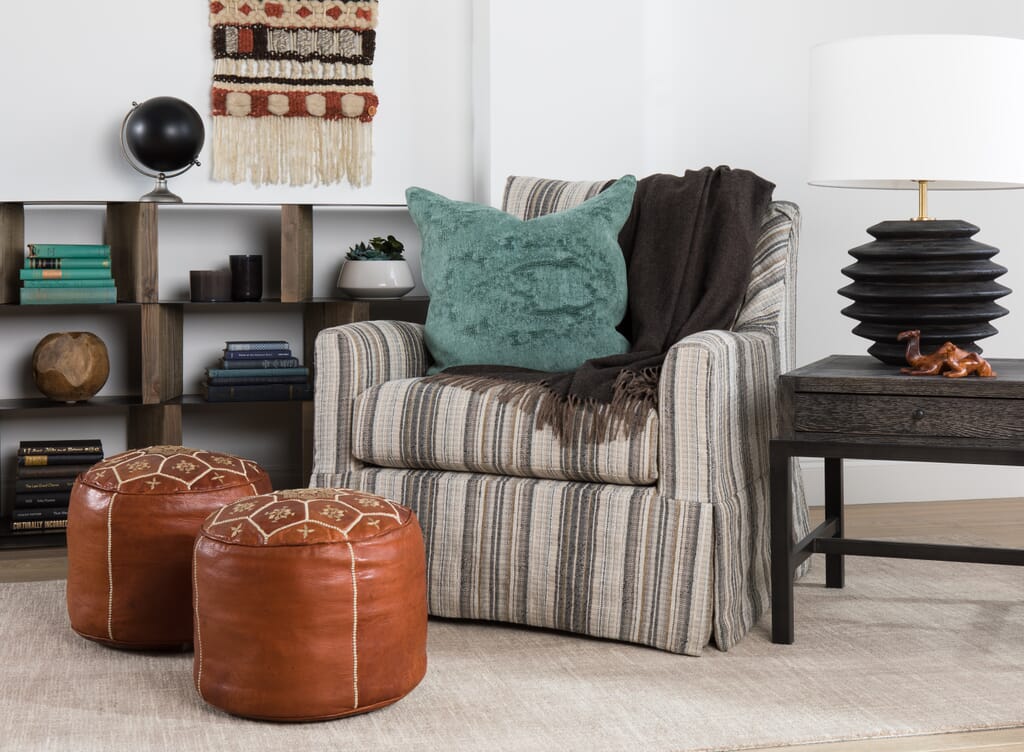 Pulling It Together
Color and texture were used as the starting point for this look. The Silas Swivel Chair was chosen to complement the poufs because it has hints of the warmer brown and a more modern grey. It's also heavily textured, like a rug, and the poufs come from a rug-producing area, so we wanted to nod to that without overwhelming the look with a heavily patterned rug because the poufs should really be the focus here. The rectangular side table was then added to balance the shape of the poufs.
The carved wooden camel in the shot was also used to help bring this space to life. It's another great piece from their travels to Essaouira, Morocco, and further brings part of that local culture right into their home.
If you have a personal heirloom, collection, or unique piece that you would like featured or is posing a design dilemma of your own, bring it in to our Green Bay or Appleton showroom and let one of our designers begin the process of helping you tell your own design story.