We are so thrilled to introduce you to our new brand ambassador, the lovely Jennie Gafvert! As brand ambassador, Jennie is event coordinator, social media contributor, and so much more. She is also diligently working on exciting developments within our showrooms to enhance the August Haven experience for our customers, clients and employees. Welcome to the team, Jennie!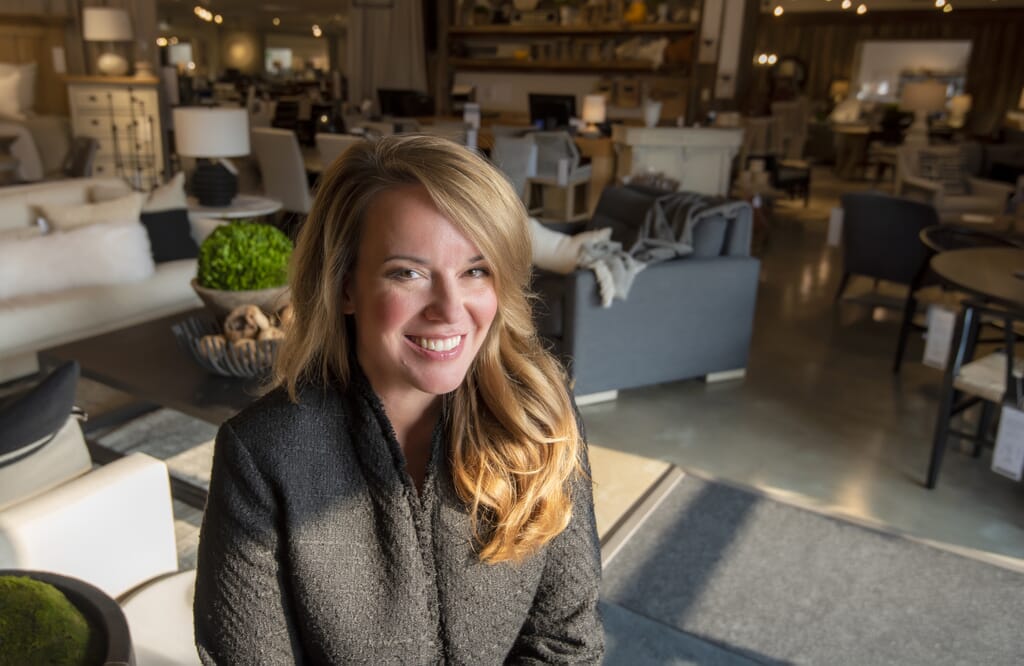 Where were you prior to joining the August Haven team?

I'm a retail junkie. My first job was as seasonal help for The Gap when I was sixteen. I realized early on that there is something so innately cool about interacting with a person to figure out a solution to their problem, but also doing so in an environment that inspires them, brings them joy. That's the power of retail.

But anywhere I worked in sales, I would also be asking my leaders to let me work on window displays and store vignettes on my lunch break or before my shift started. I've worked in some pretty spectacular thrift stores, high end boutiques and startups, but the bulk of my retail career was in visual merchandising and store management for Restoration Hardware in New York.

Prior to joining the August Haven team this past February, I was the Marketing and Communications Specialist for Elevate97, a company right here in Green Bay that focuses on print and fulfillment work, but also experiential design and signage for brands.
What drew you to August Haven?

When August Haven first opened its doors, I was there as an invited guest to the launch party. I was already familiar with a lot of the lines AH had chosen to carry, so I was glad to know we had a cool new resource right here in Northeast Wisconsin. No one else was offering what August Haven was offering.

Moreover, August Haven provided an instant vibe that I knew I wanted to return to. Over the years it became a place for me to not only find some of my favorite accessories and artwork for my home, but also a bit of a respite. Every time I walk into one of our showrooms, I'm inspired. How cool is that?
What inspires you?
It's so important to remain open to inspiration. Music is a big part of my life. If I don't have my earbuds in, you'll hear it playing in my car, in my home. It's a constant and it has the power to affect how I chart my day, my mood and any project I'm working on. But inspiration can come from anywhere.

For example, I threw a backyard party last summer inspired by the label on a vintage bottle of Campari. The trick is to always be looking, be keenly aware of your surroundings. Scenes in movies, a flash of color in a Pantone ad, the texture of a favorite sweater…if we're aware, we can be inspired every day.
What are some of your favorite lines or pieces in the showroom currently?

I have a sizable crush on both the Charlotte Sofa by Verellen and the Large Black Organic Bench in our Appleton showroom, but my latest obsession is our travel wraps. They drape so elegantly. I've thrown one in my handbag before trips, but also gussied up a pair of pajamas on the weekend. They're magic
Describe August Haven in 3 words.

Authentic, timeless, classy.
Can you give us a sneak peek into some exciting things you'll be working on in the near future?
Events! We've been using the phrase, "Live Fully" more and more lately to summarize the August Haven lifestyle proposition, and the best way to make that proposition a reality is by bringing people together to create an experience they'll remember.

Our monthly LIVE events with 91.1 The Avenue at our Appleton showroom have really picked back up, but we're also working to build smaller, more intimate gatherings inside both our showrooms that focus on the elements of design and home entertaining. I hope to see you there!