In anticipation of his special appearance as this month's August Haven Live! musical guest, 91.1 FM The Avenue host and performer extraordinaire, Steve March-Tormé, kindly sat down with us to talk about his history with the station, current inspiration and plan for the spotlight during this month's August Haven Live.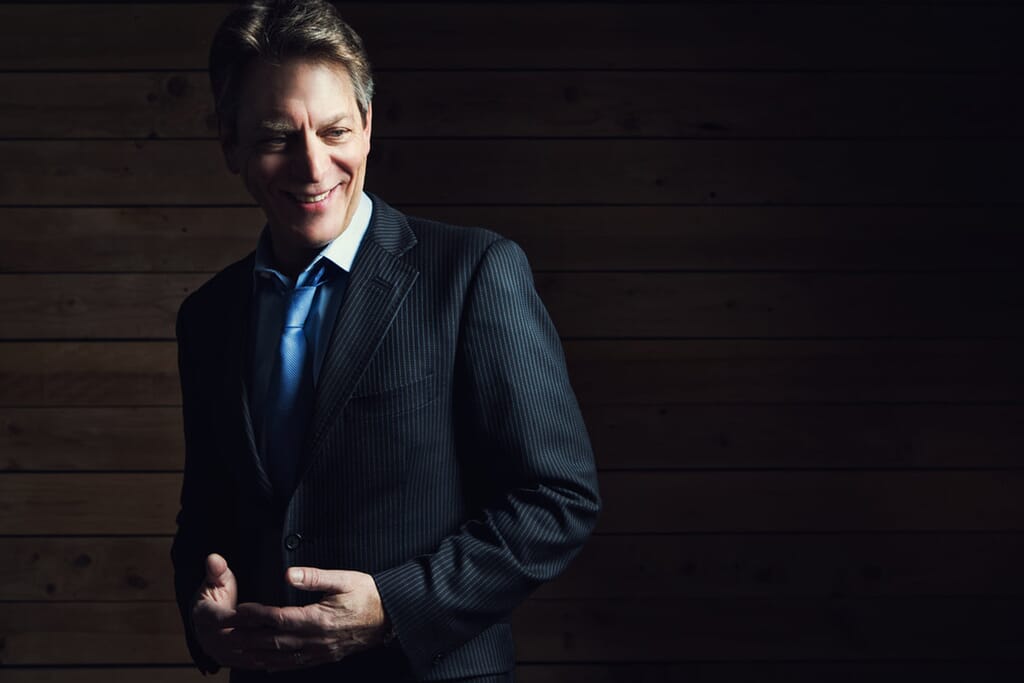 Photo by David E. Jackson
How long have you been a host with 91.1 FM The Avenue, and how did that opportunity arise?
I've been there around 11 years, would be my guess. It started when I moved out here and I recorded an album. I wanted to do an album of all original material; I didn't want to do any covers or anything that was associated with my dad [the late Mel Tormé], so I wanted to kinda get back and write an album that is closer to what I do which is actually more pop oriented than jazz. When I was done with it, my wife asked if I'd heard of this radio station called The Avenue and I said, 'no, but I don't really pay attention; I listen to what I listen to.' And she said you should listen to it, it's pretty different.
So I listened to it and what they were playing back then was really pretty different. You'd hear a Duke Ellington tune, and then Joni Mitchell, The Beatles, and then somebody local, and then Billie Holiday. It was all over the map and there was a lot of jazz in it. I said, 'yeah, that's pretty cool.' Most stations can't do that…they can't have a mix that's that eclectic and that spread out. I decided I had nothing to lose by calling the radio station and saying, 'Hi, my name is Steve March-Tormé and my dad is Mel. I know you play some of his records, I just made a new album, can I send you some cuts?'
The person I talked to was Denver, who still works at the station, and he said yeah send us some cuts and we'll see what we think. He called me back 2-3 days later and said 'yeah, there are a few songs here that we would play' and I would've been thrilled with just one because it's hard to get radio play. He called me back about 3 days later and asked if I would mind doing a station ID. I said yeah, which is nice for me and probably also nice for them to get the Tormé name in there: 'Hi, this is Steve March-Tormé, you're listening to 91.1 The Avenue.'
I'd say maybe 4-5 days later the general manager got in touch with me and said 'we like the songs you've sent here and we appreciate you doing the station ID. You've got a good voice for radio, and we have an opening here, would you be interested in doing a slot on the station?' And I thought, well, I hosted a couple shows in L.A., I think I could handle radio, but I want the best slot. I want drive time, I don't want to be on from 2-to-5 AM.
So they gave me the 3-7 PM slot, which is drive time when everyone is on their way home and tuning in to the station. And then I don't know how much longer after that they needed me to do a morning slot, too, so that became 6-9 AM. And then just recently, in the last year, they said 'we could use some help on Saturday mornings' because everyone's going through the same thing due to COVID. It's difficult, people getting laid off and our staff has gotten smaller and smaller, but we've kept the station going, so I'm on from 9 until 1 PM. So I'm on the radio more than I'd want to ever listen to me, but I'm grateful that they do it. It's great and that's how it started. It's a nice opportunity for me.
What sets The Avenue apart from other local radio stations?
The fact that we're non-profit means we're not beholden to any company or corporate entity saying 'these are the songs you're going to play. These are the songs we want to hear. This is our format.' No, we can play anything we want. Now, granted there's some stuff we don't. We don't play any rap records, we don't play really heavy metal, we don't play a lot of country, but we do play some. To this day, I don't think we play polka, but we'll see what happens.
That's what sets us apart. Our playlist is so eclectic and there are so many songs that are in our library now, it's nice to listen to a station and not hear 'Stand By Me' every hour and a half. It's that and working with these non-profits and knowing that these little companies can come to us for a community impact grant and actually get airtime and be heard. These local high schools that are doing a musical or play, that's considered non-profit and we'll give them airtime. And I think that's what sets us apart.
How does your impressive history of performing on stage help you as a radio host?
I think it might be more the other way around. I mean, I've been doing this for a long time; I've been singing and doing concerts for a long time, so I'm comfortable in front of people. Granted, when I'm doing a radio show, I'm not in front of people, but when we do August Haven Live, I am. I don't get stage fright, and that's probably because I prepare so much. I'm so terrified of being embarrassed and messing up that I try and do my homework as much as possible. I think they work hand in hand. I'm just comfortable in front of audiences.
Are there any up-and-coming local musicians who have your attention right now?
One of the groups that we presented at August Haven recently that very much have my attention right now are Pegasis. There's a lot of talented musicians and a lot of them play American music and a lot of them play basic rock and roll music, but they're [Pegasis] really quite different from everyone else out there. Not for the least amount of reasons that they're bilingual. The very fact that they can get up there and sing songs in Spanish, and Portuguesa, and English and you can tell they're sisters by the way they sing.
There's something that happens when brothers and/or sisters sing – a natural harmony you can't really teach. It's just instinctive. One sister could start singing a song and the other brothers or sisters will know automatically which harmony to go to so they don't get in one another's way. And Matt, their guitarist who's married to Rissel [pronounced RIHZ-zle], is such a good jazz guitarist. You literally have almost an orchestra up there with one guy playing guitar.
When they did August Haven recently, I think people were amazed like 'oh my god, there's one guitar making all those notes and playing all those chords and playing all those leads.' And Matt Hillman's that good. There are a lot of good musicians, but they really have my ear because I think they could have a chance to really become real big players in the music industry. You put them together with a full band – horn section and a full show, a full act – they could play anywhere. They could play the East Coast because of that Spanish background, they could play Vegas. There's a lot of places I think they could be successful in, but that's my opinion.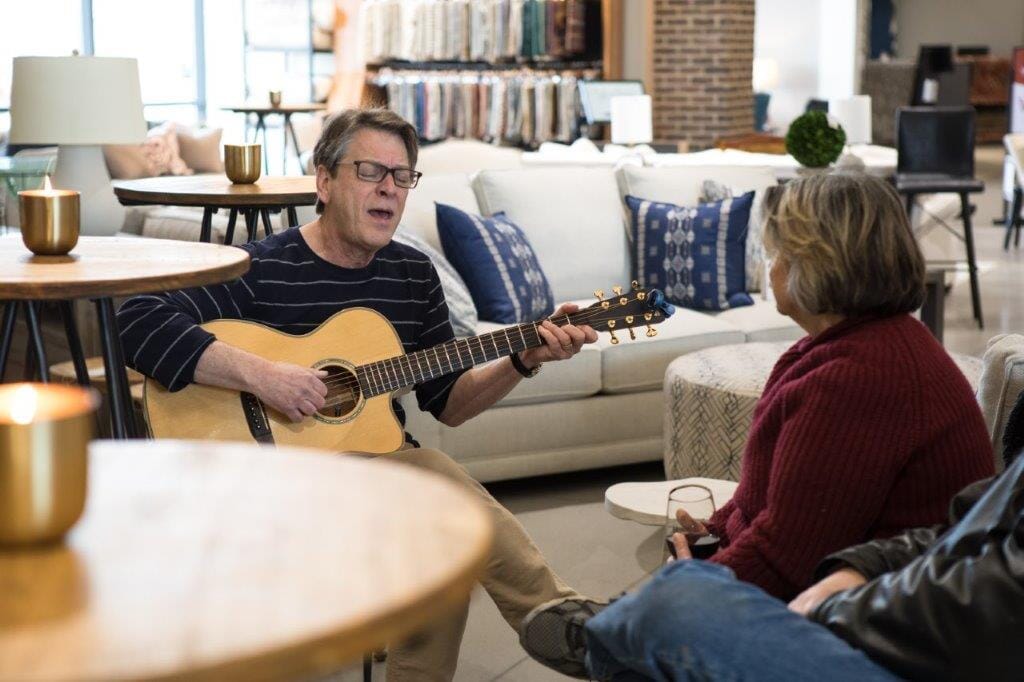 Steve March-Tormé puts on an impromptu, acoustic show prior to the first-ever August Haven Live! in 2019.
What is your favorite part about performing on stage?
When I was younger, it was probably getting attention and trying to make a name. And that has changed in the last number of years. I was talking about that just two days ago with someone. I was headlining the Amelia Island Jazz Festival in Florida, and I talked to somebody after and they said, 'you're really quite genuine about what you're singing, aren't you?' And I said, 'yeah, because I don't do this for me anymore.' I really genuinely sing for an audience now. I want them to be comfortable, I want them to be moved emotionally if possible; I don't do it on purpose, but if they can say 'I felt like I wasn't being sung at. I felt like someone was actually singing to me and with me and wanted me to be part of it.' The most enjoyable part of singing is really that. I depend on rehearsals so much that I'll sing in-tune all the time – hopefully – but if someone will say afterward 'we came to see you and had never heard of you before, and my husband won't admit it, but he had tears in his eyes when you sang that song about your daughters,' that means I did something right.
Which recording artist(s) would you love to perform on stage with?
Well there are a lot, but for the most part…I get a chance to sing with Michael and Jack Murphy, who are local boys, and they're both really, really good, and they have that natural harmonic ear, so I love doing harmonies with them. My shows, for the most part, are just me singing, and I don't get a chance to do harmonies, so I like performing with them because they know them naturally.
But someone who I have not performed with that I would like to perform with is k.d. lang. I think she's one of the greatest singers in the world, and she doesn't over-sing – she never sounds like she's auditioning for American Idol. She just has a great, great voice, and that's someone who I'd like to perform with.
What can people expect during your August Haven Live! performance this month?
We're gonna do some original material. We're gonna do some material from Stevie Wonder. We're gonna do some material from The Beatles. And we're gonna do some songs that my dad used to do. So we're gonna have a nice mix of pop and jazz. I think I picked out about a dozen tunes and they're from different musicians, so I don't really want people to sit there for an hour and hear the same thing for an hour. I want them to hear different sounds and different types of songs so there's some variety in the show.
How would you describe August Haven Live! to someone who has never been?
Well you and I both know that there's nothing like it. You can go into Dèjá Vu, or the coffee houses on College Avenue, or any bar and see a band play and there's nothing that compares to what we do at August Haven. It's completely different. The fact that people are sitting on expensive furniture, eating food they didn't have to pay for, and getting a chance to hear really good live music on a really good sound system. You know, most people that don't know that space exists – especially the musicians – walk in there like 'oh my gosh, there's a real sound system in here with a real set of drums and real amplifiers, not junky stuff that was thrown together.'
Obviously if Jim [Greene] was not a musician and drove a tractor for a living, it wouldn't be the same. The fact that he loves music allowed him to put money into this and say, 'now look, when we have bands coming through here or we have Mile of Music, I want bands to be comfortable. I don't want them to have to lug all their stuff over here,' so he's put in a great spot there. And sound-wise, it's pretty good; I mean, it really is. It's a big, big store, and even when you sit way far in the back with the sound dialed in properly, everyone can hear what everyone's playing. It's just a great experience. I mean, what's not to like about that? You know, come over for free, eat for free, listen to good music for free, sit on nice furniture. [Mimics] Oh gee, I don't know if I wanna do that. Don't twist my arm too much.
So it's a great experience. And we are so fortunate to have this marriage between The Avenue and August Haven, and we're just grateful for it.
Visit us this month on Thursday, October 21st from 4-7 PM at our Appleton location to watch Steve March-Tormé perform with friends Mike Kubicki, Mike Malone & Andy Sachen. Watch past performances from August Haven Live! here.